70 Marketing Experts Reveal Their Best SEO Strategies For 2020
When it comes to finding the best SEO strategies, there is no fixed formula.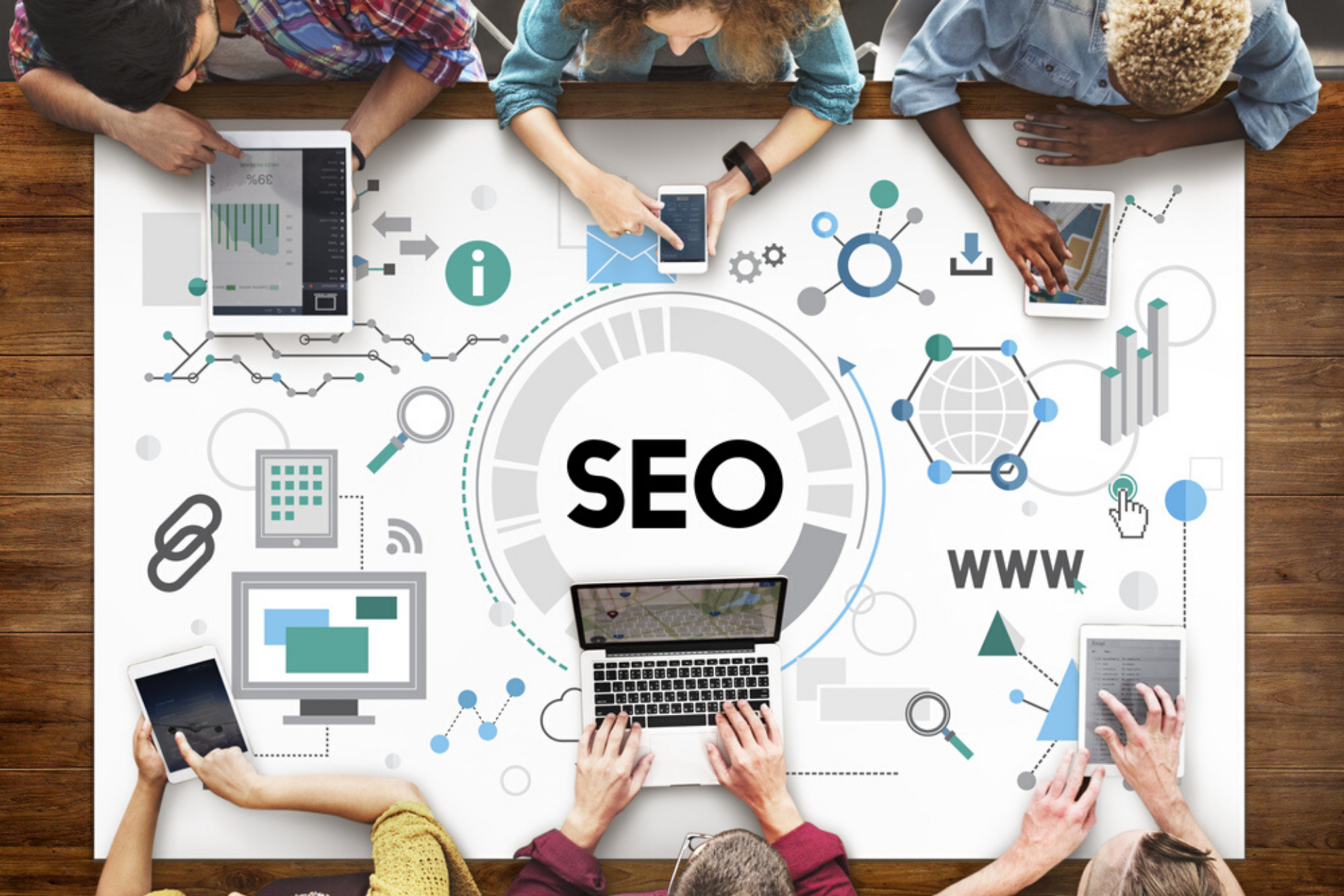 To succeed in SEO, you must walk hand in hand with Google and all its algorithm updates. You'd be surprised to know that 90.63% of content gets no traffic from Google.
So, to ensure that you're in the remaining 9.37%, you must invest time and resources in ensuring that your website and content are optimized. 
However, with a plethora of information available online, it gets overwhelming on what steps to take for your website to rank on Google search's first page. 
We reached out to 70 small business experts and asked them to share their winning SEO strategy. Let's dive in.
1. Lewis Goldstein
Lewis is the President of Blue Wind Marketing, full-service marketing, and advertising agency. 
Getting publicity is one of the best actionable strategies to rank higher in search engines. It's a great way of getting exposure to your brand and your company.
In other words, your SEO strategies compound over a period of time. It creates a positive cycle, helping you increase your visibility into areas you never thought was possible.
Google considers media publications as highly reputable companies. When you receive multiple links from reputed media websites, your website's search engine ranking improves over time, bringing in much-needed exposure necessary for your business growth.
2. Claire Shaner
Claire Shaner is the Product Marketing Manager at ZooWho, a startup app.
SEO starts with strong keyword research–finding the set of keywords that you'd like to rank for in search engines, and then figuring out how to rank for those keywords. 
Though there are hundreds of other ranking factors that influence the position of a website in the SERPs, doing keyword research will help you get started.
Begin with the process of analyzing web pages that rank for specific keywords. You can also use tools such as Seobility for your research.
Plug in the keyword you'd like to rank for, and the tool will give you a list of the most important words and phrases to use in your content. 
The use of these words in the content establishes your identity as a subject matter expert in the eyes of Google. 
3. Devan Sanders
Devan Sanders is the Founder of Alpha Media Marketing LLC, an international marketing agency based in Myrtle Beach, SC.
Here are some of my favorite SEO strategies:
Make your website faster by enabling image compression.

Ensure a user-friendly mobile version of your website that's easy to navigate, and has no missing images and overlapping texts.

Create engaging content that improves navigation and dwell time, and decreases bounce rate. 

Improve your social media presence. Did you know that when you type "Nike" on Google, their Twitter and Facebook accounts pop up on the first page of Search Engine Results Page (SERPs)? Not only does this increase your online presence but it also leads to increase website traffic from your social media platforms.

Optimize your content for the featured snippet. Ever typed in "banana bread recipe" on Google and saw the step by step instructions appear inside a box directly underneath the ads? This is Google's featured snippet box.
4. Laira Martin
Laira Martin is a Content Marketing Manager at Seek Capital.
The best thing you can do is learn to think like an editor. Every page you create should serve a primary purpose: Answer the user's query.
By taking an editorial approach, you'll prioritize the best, most relevant information and explain it in a way that's clear, accurate, and free of errors. 
If you can combine high-quality, fact-checked content with competition analysis, keyword research, a backlink strategy, and other SEO optimizations, you're well on your way towards creating a page with the potential to rank.
Be mindful of your headings, title tags, and meta-descriptions. Also, keep an eye on how frequently and consistently you're publishing or updating content since it can have a direct impact on how frequently your site is crawled. 
Bringing all these elements together is your best bet to rank. You have to see the forest for the trees.
5. Mark Lamplugh
Mark Lamplugh owns Influence Media Solutions, which is a marketing, public relation, digital marketing, and social media firm with accounts nationwide.
Content is the "King." Do not try to "trick" search engines with useless content. 
Not only will it affect search engine rankings, but it will also bother potential customers.
Also, while you want to mention your keyword in the content, do not indulge in "keyword stuffing." A too high keyword density does not look natural, and search engines may penalize your website.
6. Nate Fishman
Nate is an independent SEO consultant based in Boston. He works with both B2B and B2C companies of all sizes to help improve their web presence.
For me, creating and publishing blog roundups have helped increase domain authority quickly. To start, you'll want to think of blog topics that are related to what your business sells, but other businesses are seen as "experts" in.
Then, reach out via email or social media to ask if they would be interested in contributing to the blog you're looking to publish. In exchange for featuring them on the blog, you'll want to encourage them to link back to your post. 
It's important to target smaller businesses when doing blog roundups. Small businesses will often be most interested in being featured in an article, and that usually means they'll be more receptive to linking back to your blog post.
Consider adding some cool graphics or videos to supplement the text. 
Starting An Online Business? Build It On .Online!
7. Paige Arnof-Fenn
Paige is the Founder and CEO at Mavens & Moguls, a global strategic marketing consulting firm. 
Optimize websites for voice search
Voice user interface allows users to interact with websites through voice commands. It adds usability and functionality to your site, making it accessible to all users, including those with limitations and disabilities. 
Content quality and length matter for rankings
Web pages that contain long, high-quality content get more visibility and shares. Becoming a trusted source and influencer with timely and helpful answers to questions gets rewarded quickly. 
Search engines notice when sites publish consistently and can see how long people stay. 
Therefore, building a strong reputation as a site that informs and educates pays off in higher organic search results too.

Mobile UX determines your ranking
In a mobile-first world, you have less time to attract people. So, the video will be used even more to boost rankings.
Show – don't tell – for maximum impact, higher engagement, traction, and growth. The world is moving to mobile-first or mobile-only, with fewer people accessing the web on big screens.
Therefore, businesses are tailoring their site, message, and content marketing strategies accordingly. 
Since more people watch videos, adding video content to your site and using the right keywords for video descriptions and headlines will ensure you do better in searches too.  
8. Stuart Leung
Stuart is the VP of Marketing at Breazy.
Title-tags decide how search engines read your title. It's also the first thing searchers see on a search engine result page (SERP) after typing in their query.
Optimizing your title-tag will ensure your page is populating on a SERP when consumers are searching for relevant queries.
You can optimize your title by utilizing third-party tools, such as SEMrush, and finding the best terms based on search volume and relevance.
9. Calloway Cook 
Calloway is responsible for managing marketing operations for his angel-backed eCommerce venture called Illuminate Labs. 
Optimize your site for page load speed. Unlike many SEO strategies, this strategy also improves conversions immediately. Page load speed is positively correlated with the bounce rate.
The longer it takes your website to load, the more people give up and click out of it. By improving page load time, you will not only get a boost in Google but will also drive more conversions.
10. Stacy Caprio 
Stacy is the Founder of Accelerated Growth Marketing.
Make sure your content is high-quality and engaging, as opposed to thin and hard to read.
Your content should be interesting, answer the user's question, and draw the reader in. It ensures visitors spend time on your page and engage with your site. 
When users are spending more time and engaging with your site at each visit, search engines perceive it as a positive sign, so your overall rankings will go up. When people visit a site and then hit the back button quickly, search engines will penalize your site.
Making a site that is interesting and keeps users' attention is a content marketing tip that will help you improve user experience and SEO.
11. Aiden Angeli
Aiden Angeli is a Senior Marketing Consultant and Founder of Ripe Marketing.
Visit your competitor's blog to see what blog posts are getting the most comments and interactions.  Check out their social media as well. 
Posts that receive a lot of comments are great indicators of topics you should be writing about. These topics will receive more links due to higher engagement. 
Use QuestionDB to search for questions that people are searching for and create content around answering those questions. This is also a great source of content for live video streams, infographics, blogs, etc. 
Evaluate content that is ranking on the first page of Google, look for what is either missing or could be improved upon.
Add images, video, or more in-depth details, so it becomes a better useful resource to the person searching for information.
12. Tonya Davis
Tonya Davis is a marketing professional at ThoughtLab, full-service web design and digital experience agency based in Salt Lake City, Utah.
Publish good-quality content. It will impact your website in several different ways.
Content will help Google in perceiving you as more relevant to your industry. It will help to establish you as an authority within your industry creating trust between you and your target audience. 
While writing content, you will naturally use keywords you want to rank for within your content. Write long-form, insightful content that users will benefit from and search for.
This will take some time and research to do, but it is one of the most effective SEO strategies.
Starting An Online Business? Build It On .Online!
13. Alexander Porter
Alexander Porter is the Head of Copy at Search It Local, a Sydney-based agency. 
In terms of actionable tips, forget content marketing. It's a space too saturated for you to make any headway. Instead, focus on content upgrading.
Spend a fraction of the time you would on creating content and invest it into upgrading your content.
What new data, stats, or information can you add? Once you've done this, create a roundup of industry experts to add credibility to your upgraded content.
Next, contact these experts and let them know they've been included as expert opinions. Encourage them to share the content with their audiences.
This will have a dual effect. First, your upgraded content will move up the SERPs faster than new content ever could.
Second, through the social shares, mentions, and links generated by your new expert relationships, you'll improve the valuable user signals that will boost your SEO results further. 
14. Angie Quigley
Angie works for Red Egg Marketing, a digital marketing agency in Denver, CO serving small to medium-sized businesses.
Backlinks, Backlinks, Backlinks!
As experts in the field, we've tried almost all SEO strategies time and time again. However, one strategy proves to be more effective than the rest–Backlinks.
Backlinks are links to your website from other credible websites that basically tell search engines that your website is credible enough to have others link to it for valuable information.
These links are even more valuable if they are attached to some of your target keywords, as this tells search engines that not only does your website have useful information, but also what this useful information is about.
For example, if your flower shop wants to rank for the keyword "local flower shop" and a popular blog mentions that they "just discovered the best local flower shop to buy Valentine's Day flower bouquets," and links the phrase back to your website, search engines will recognize this and rank your website higher for that keyword. 
15. Joe Goldstein
Joe Goldstein is the Director of Operations and SEO for Contractor Calls, a digital marketing agency serving contractors and home service businesses nationwide.
One of my favourite SEO strategies is to fix your index bloat. If your website has single-use blog tags and categories, dummy content hidden on demo pages, or other indexed URLs that contain little to no unique content – these can drag your entire website down. 
Removing these "empty calorie" pages and redirecting them to the most appropriate content means that PageRank and other quality signals will be consolidated around a smaller number of more valuable pages.
That means less SEO upkeep and more frequent crawling for the pages that need it the most. The net effect is a positive impact on your organic traffic that can be dramatic.
16. Levi Olmstead
Levi Olmstead is the owner at LeviOlmstead and Director of Marketing at 2ndKitchen. 
Use an SEO tool to conduct competitor analysis on what articles or keywords are your competitors getting their most traffic from.
From there, filter out the articles that have the lowest keyword difficulty and reproduce those articles.
Now spend time with offsite SEO to build links to these articles. If you can create a better article and build strong links to those pieces, you'll be stealing your competition's traffic in no time.
17. Anand Iyer
Anand is currently working as the Digital Marketing Manager for a $4B+ company. He also runs his own YouTube channel and website.
Optimize your content for "Semantic SEO." The ability of search engines to crawl, index, understand topics from your content, and rank search results accordingly is called a semantic search.
Google's algorithm can understand the context and topic of your page and will start connecting the dots when a searcher uses a term other than the main focus keyword that you wanted to rank for.
You basically optimize your content around your main focus keyword and then cover subtopics related to your focus keywords.
This helps Google understand the primary topic of your page instead of just ranking for the focus keyword.
Use a tool such as LSIGraph to generate LSI (Latent Semantic Indexing) Keywords and enrich your existing content.
18. Ryan Popoff
Ryan Popoff is CEO of Popov Leather, a manufacturer of bespoke leather goods. 
Use tools such as Ahrefs to research your competitors' 404 pages. See which 404 page has the most backlinks and see what content used to be there (using a tool such as Internet Wayback Machine or Google cache). 
Re-write that content and reach out to every website that links to your competitor's 404 page.
Tell them that they are linking to a dead page, and you've written an updated version that they should link to instead. Easy win!
19. Patrick Leonard 
Patrick is the Founder of Brighter Digital, an Edmonton-based digital marketing agency.
Google My Business is the one thing that local businesses simply can't afford to skip out on.
The high engagement in local "snack pack" results, the growth of Google Maps as a discovery channel, and all the features available in your brand's knowledge panel culminate into the single best client acquisition tool available. 
If you haven't already done so, stop right now and go claim your listing.
Fill in every field available, including photos, categories, service areas, business attributes, website/appointment links, and whatever else has been made available for your type of business. 
Ask your clients for reviews and publish your company updates, sales, and promotions with Google Posts. Google My Business is the anchor of a local search strategy.
20. Venchito Tampon
Venchito Tampon is the CEO and Co-founder of SharpRocket, a digital marketing company focused on content marketing and link building, based in Manila, Philippines.
Create superior content assets that aim to acquire links from relevant and targeted content creators. You can target linkable audiences to ensure you have a chance of getting links.
These audiences include parents, veterans, students, people with disabilities, senior citizens, and caregivers. 
Use advanced search queries, such as "for PARENTS" inurl:links OR inurl:resources to discover resource pages. Replace "for PARENTS" with the audience you're targeting with your content asset.
Pitch them by sharing your content piece – emphasizing what makes your content unique from other similar content pieces.
21. Ryder Meehan
Ryder is the Agency Principal and Co-founder of the Upgrow digital marketing agency. 
A high impact, low effort SEO tip is – claim and optimize your local listing profiles.  The most important is Google My Business, the platform behind Google Maps. 
By simply claiming, fully completing, and optimizing your local business' listing can have a huge impact on your online web traffic in no time.
Completely fill in all details of your business and create a 'Post' to give your listing more prominence. Reviews are also a big part of having a strong local rank, so ask some of your loyal customers if they would write a review. 
You can also create a link back to your website, further helping your SEO. 
You can also use a local distribution service such as Moz Local to distribute your listing across dozens of local sites.
22. Jonathan Stanis
Jonathan Stanis is the Director of UX at Weidert Group. He specializes in web development and SEO for inbound marketing websites.
One of the SEO strategies I'm looking at right now is page speed optimization.
The faster your website loads, especially on a mobile device, the less bounces your page will have, and more Google will like it. 
Things we look to help reduce page speed include reducing the size of images, and reducing javascript and CSS in the page header, both in size and the number of separate files. 
In addition to page speed, we also look at creating a pillar page strategy around keyword clusters. One page is unlikely to rank for many keywords, but having a group of keywords and content around those keywords will build your site authority on a topic. 
We have had success using this strategy with our clients. Over time, the amount of keywords continues to grow, as well as their SERP rank for those keywords.
23. Ryan Patterson
Ryan is the Founder and CEO of SeniorAdvice.  He has 15 years of experience in SEO and the Internet. 
One of the easiest ways to get fast results from SEO is through technical site optimization. 
Most under-performing websites have pages that load slowly, little or no structured data, broken links, pages that don't work properly on mobile devices, and other such fundamental issues.  
These are all problems that are 100 percent within the control of the site owner, so they are generally the easiest to implement. Some of the typical places to start would be: 
Fix any backend database issues that might be slowing the site (for example, missing indexes on large tables)

Optimizing large images

Finding and fixing broken links

Adding basic structured data that helps Google better understand your pages

Creating XML sitemaps that help bots crawl the pages on your site

Making sure your site is SSL-enabled

Ensuring your site is mobile-friendly

Finding and eliminating crawl errors

Making sure you have a robots.txt file
24. Jonathan Aufray 
Jonathan is the Co-founder and CEO of Growth Hackers. He's worked with businesses and entrepreneurs from more than 70 countries. 
Here are a few effective and actionable SEO strategies you can use today:
Work on your content that rank on the 2nd or 3rd page of Google: You don't always need new content. You can optimize your existing content.
Find out which pages or posts rank just after the 1st page of Google and optimize these pages by adding a few keywords, adding internal links directing to this post, and building a few backlinks. 
Improve your website speed: This is a strategy often ignored by marketers, but it's very important. Search engines like fast-loading websites as it's better for user experience. 
Guest blogging: Find authoritative blogs in your niche and contact them to know whether they accept guest posts or not.
If they do, start writing an insightful guest post for them. In addition to strong backlinks, you will also build your brand.
25. Fara Rosenzweig
Fara Rosenzweig is the Chief Content Officer at ManyChat. 
First, you need to identify your target audience and then begin with keyword research. 
You can start jotting down high-level words, terms, and phrases to see what pops up in a Google search and what your competitors are writing about to capture those terms.
Use keyword tools such as Google Related Search, MOZ, or Answer the Public, and see what common questions pop up. 
Also, MarketMuse is a reliable tool that will help you understand how to phrase your subheads, what keywords to drop into the content, as well as cross-linking opportunities to make sure you have a well-optimized content piece that will help contribute to your top-notch SEO strategy.
26. Hamna Amjad
Hamna Amjad is working as a Content Marketing Executive at Gigworker. 
We use Ahrefs to find out what content competitors are ranking for. And then, we create similar content. We identify keywords that may not have the highest search volume but which our competitors are not targeting.
This way, we can rank faster by avoiding high-competition keywords. We then create long-form content pieces on those keywords for our blog.
We follow Google's E-A-T principle:
Achieve

expertise

by providing your audience with content that they are searching for.

Be

authoritative

by earning backlinks via outreach and making your content easily shareable.

Prove

trustworthiness by having a high-quality website with a good domain name, easily accessible privacy policy, clear contact information, and encouraging users to leave comments/reviews/testimonials.
Starting An Online Business? Build It On .Online!
27. Chad Erickson
Chad is one of the owners of Advice Media, and has consulted thousands of doctors on the best digital marketing strategies for their practices since 1999.
One of my go-to SEO strategies for people is to optimize their title tags throughout their website. 
A few tips to optimize your title tag would be:
To perform keyword research to ensure you're using appropriate keywords

Make the title relevant and unique to the content on your page

Avoid repetitive titles

Try to make the title between 40-60 characters
With appropriate and optimized tags, your complete title will be shown in search engines, catch the attention of users searching for your product or service, and provide an overview of the content on the page.
All of these can helo SEO, as well as improve customer experience.
28. Sam White
Sam White is the Marketing Manager at Del Mar Jiu-Jitsu Club, located in San Diego, CA.
Re-optimize old content. Chances are, your content is ranking for page two queries that you could get on to page one with a little effort.
Also, Google loves fresh content, so re-optimizing will keep your content fresh and up to date. 
Make sure to re-crawl the site when you're done. We complete this task monthly and have seen some awesome results.
29. Glenn Allen
Glenn Allen, the host of the YouTube channel The Glenn Allen Show, is a coach and consultant for online entrepreneurs looking to grow their email list, audience, and business.
The biggest mistake you can make in SEO is trying to compete on the most popular, high-volume keywords and search queries.
Chances are larger media outlets and popular thought leaders have already dominated the search results for these keywords. 
Instead, find less popular ways of phrasing a popular keyword or query that has at least a thousand monthly searches.
Use an SEO browser plug-in such as Keywords Everywhere to find the monthly search volume for a given keyword and identify  lower competition phrases. 
Next, look at the quality of the content that shows up for those lower volume keywords. Then create better content and include the other ways of phrasing the keywords and search queries in your content. 
30. Lance Beaudry
If you haven't uncovered the opportunities that your website could bring in your organization, Lance will investigate.
One SEO strategy that we've seen great results with is creating a table of contents for in-depth blog posts.
We break up the article with a table of contents, and each section is based on related questions people asked in Google.
Thorough, topical keyword research allows you to create an article that people actually demand, evidenced by keyword research. 
Using the table of contents strategy with anchor text on your page, Google will often add an additional link in the search engine results page between your page title and description that says, "Jump to whatever your anchor text is within your table of contents."
31. Debashri Dutta
Debashri Dutta is working as a Content Marketer at Blog Tyrant. 
We create pillar articles that link to several other internal links as well as to other brands under our umbrella. We then create guest posts that link to our pillar articles as well as our other posts.
This helps interlink our content, keep people on our pages for a longer period, and boost SEO through linking content to keywords people use. 
There's a lot of work involved that goes beyond writing. You have to develop a relationship with other publications and maintain a high standard of quality in content.
32. Matt Bassos
Matt Bassos provides in-house, top-level SEO & digital strategies for Vuly Play's outdoor play equipment division.
Many of the longer tail keywords are phrase-based and often picked up as featured snippets by Google.
This plays a large role in generating brand awareness for your business, especially as snippets are currently used by those asking questions to voice assistants. 
Use the website AnswerThePublic and Google Keyword Planner Tool to find competitive, longer tail keywords.
Using terms related to your website and business, explore the range of questions, prepositions, and comparisons AnswerThePublic generates.
Copy these lists and paste them into the Google Keyword Planner tool. This will give you a rough idea if any of these longer tail keywords are being searched. 
Once you have chosen a few key long-tail keywords, search for them manually in Google. If the search results aren't relevant or poor fitting, this gives you the opportunity to target them.
33. Jack Paxton
Jack is a full-stack marketer and Co-founder of VYPER. 
Guest blogging for links back to your website is one of the most crucial factors of SEO. To get the most out of my link building efforts, I partner with owners of other blogs related to mine.
Before I post an article to my website, I send out that article to everyone in our link partnership group so they can recommend links to their websites.
We discuss link opportunities with each other on Slack groups and keep track of the links given to each other on a shared Google Sheet.
This method allows for consistent link building and can save you plenty of time as opposed to searching for websites to submit guest posts. 
34. Ryan Scollon
Ryan Scollon is a digital marketing consultant. He's been featured on Search Engine Land, Moz, The Independent, and the likes.
My actionable SEO strategy is all-around brand mentions.
This is something I worked on recently and managed to gain 3-5 links from one hour's worth of work from mentions that already existed about me or my business. 
The first thing you need to do is find where you are mentioned. There are a few different search commands that you can use, but a simple search for your brand name in quote marks will work fine. 
You then need to manually work through each listing to check if they have linked back to your website.
Once you have your list of sites that have mentioned you but not linked to you, you need to find their contact details and reach out to them and request the link. 
35. Adam Lumb
Adam is the EN Site Manager for Cashcow, a digital marketing company. 
One of the easiest ways to try and give your SEO a quick boost is to review your internal linking. Go to Google Search Console, select "Links" in the sidebar, and then "Top Linked Internal Pages."
Here, you can see what pages have the most internal links pointing to them. In general, you'd want your top or most popular pages to be receiving the most links, so you can make adjustments if needs be. 
You can also check the anchor text you're using for internal links – which can be done with a tool such as Screaming Frog.
Ideally, the anchor text will describe what a user will find if they click on the link as this helps Google to understand better the target page. 
36. Aleš Prijatelj
Aleš is Head of the SEO department in an eCommerce company that covers almost all of the European markets.
On-site SEO is more important than ever. Your website structure should be clear and straight to the point. Use SEO friendly URLs, headings, content, and metadata, which should all have topic-related keywords included.
Clear up your code, use hreflang tags for multilingual websites, alt tags for pictures, write your OG (Open Graph) data, and make sure that the page speed is as fast as possible. 
Moving on to content, even though keywords are important, your first goal should be writing content primarily for users and not search engines. 
Blogging is an extremely useful tool for targeting "low hanging fruit," aka long-tail keywords. 
Last but not the least – backlinks! Make sure that you diversify your backlinking strategies and acquire quality backlinks from relevant and quality sites.
Starting An Online Business? Build It On .Online!
37. Nate Masterson
Nate Masterson is the CMO of Maple Holistics.
Major advances, such as voice search, have created entire new niches within SEO that require constant vigilance to succeed.
It's clearly prudent to market your business online, as well as registering it with devices such as Alexa (Alexa website ranking) to give you that much-needed SEO advantage. 
One of the most important factors for voice SEO is the time it takes for your website to load. Page speed is one of the first metrics search engines track for determining your site ranking. 
I recommend starting free and simple with Google's PageSpeed Insights for optimizing page speed.
Google's Page Speed Insights analyzes your website and provides you with a detailed review while also offering actionable tips on how to improve your site speed.
38. Aida Grigoryan
Aida is a Content Strategist at Incredo. 
Use Google Search Console to discover new keywords and increase CTR. One of the tactics we follow regularly is to track the analytics via Google Search Console.
After publishing our next blog post, we wait for a few days (or weeks) until Google Search Console provides us with fresh and actionable data. 
We track how many impressions and clicks our posts have received and which keywords users have been searching for. 
Depending on the popularity of available keywords, we add more sections containing related keyword phrases. After a short time, we notice a significant increase in clicks and CTR.
39. Ben Culpin
Ben is a content marketer for the feed marketing tool, WakeupData, a Danish company driven by its mission to help empower eCommerce businesses. 
One of my favorite and actionable SEO strategies would be to make as much use as you can of the Google Search Console.
Because you get a breakdown of each keyword into the number of impressions and resulting clicks, you can get a really actionable overview of high potential keywords to focus on (those with high impressions but low click rate.)
I then focus on:
Adding more interesting and valuable content around those specific queries

Building high-quality links to that content

Adding factors such as images and video to purely text-based pages to boost rankings

Regularly checking back to the Google Search Console to track progress
40. Ryan Jones
Ryan Jones is a digital marketing executive at Imaginaire Digital. 
My best SEO tip that you can start utilizing today is – adding your website to local directories.
Not only will this build valuable links back to your site, but it will also skyrocket your website's local rankings, especially if you add to local directories. The best part? A lot of great directories are free to add to.
41. Jason Lavis
Jason has thirty years of experience in sales and marketing across multiple industries.
We know that site speed is an aspect of the main SERP algorithm for desktop and mobile searches. So, the quickest and easiest SEO win for today would be to add accelerated mobile page (AMP) capability to your website.
If you have a WordPress website, you can add and configure a plugin in five minutes. Even without WordPress, it's relatively simple to add.
42. Ben Taylor
Ben Taylor has been a technical consultant and entrepreneur since 2004. He is the founder of Home Working Club, an advice portal for aspiring freelancers.
Over time, performing well on Google is becoming less and less about keywords and links and more about meeting user intent.
The best possible clue to finding out what this means is to look at what's already ranking. 
The first thing I try to do when creating new content is to see what's leading to rankings and try to produce something that's genuinely better.
This can mean providing more up-to-date or detailed information or sometimes simply outperforming the competition. 
43. Filip Silobod 
Filip Silobod is the Founder of Honest Marketing Galway. 
The best way to start doing SEO for someone is by organizing it. Make an SEO plan – what will you be working on and when. 
Start by analyzing the site by following these steps:
Use the Screaming Frog tool to crawl the site. This way, you see technically how the site is set up. Export the data. Look for duplicate pages, canonical tags, meta titles, 404, 302, 500 errors, and descriptions. 

Check the site for speed, and see what can be improved to increase the speed. 

Analyze the site log files to see how Google crawls the site. Check if it is crawling the pages you want or experiencing some difficulties. Aim to get a load time of 3 seconds per page. 

Use Moz or Ahrefs tool to analyze backlinks and to look at top-performing pages on the site. Look at "Top Pages by Backlinks." Export that and check if any of those pages aren't relevant anymore. If so, redirect them to your live pages.

Check all the domains the business had in the past. Sometimes those old domains or pages on the old domains aren't redirected properly to the pages on the live domain.  
44. Jessica Rhoades
Jessica Rhoades is the Owner of Create IT Web Designs. 
Google likes websites that it can trust.  One way it can trust a website is by reviews, especially those left on Google. 
Ask past and current clients to give you a Google Review.  If you want to be in the 3-pack (the first 3 listings on Google Maps,) you need to have at least 20 reviews on Google. 
Make a goal and ask customers to help you reach your goal of having X number of reviews on Google.  
45. Fleur Tucker
Fleur is the Content Marketing Manager at citrusHR – HR software and service provider.
My top SEO tip is to review your existing content as there might be opportunities to improve your search rankings with just a few small tweaks to content you already have.
First, make sure all your posts meet on-page SEO best practices. 
Next, use a keyword tool like Moz to identify keywords for which you're not ranking on the first page. Look for opportunities to optimize posts for these keywords.
Try to determine the search intent behind the keywords and tweak your posts to meet those intents.
Also, look for opportunities to merge posts that cover very similar topics- it's often better to have one post that covers a topic in-depth rather than several posts with quite similar content. 
46. Stuart Cooke
Stuart is an SEO Specialist at Levity Digital. 
Too many websites try to outrank huge competitors for popular keywords with landing pages that are inferior. This isn't going to work.
Create really specific landing pages. Carry out some keyword research, identify keywords or topics related to your business, and create the best content possible by answering users' queries in detail.
Finally, promote it with a link building and outreach strategy.
47. Keri Lindenmuth
Keri Lindenmuth is the Marketing Manager at KDG.
Our company's go-to tip is to use Moz's Keyword Explorer. I
f you're looking to see whether your keywords are garnering traffic, or if you're searching for the next popular keyword to focus your blog post on, the Keyword Explorer should be the first tool you check. 
You want to focus on keywords that have a high search volume, a high CTR, and a low difficulty level (which means a lot of other sites aren't using them.) 
The Keyword Explorer also shows you performance scores for questions and phrases, making it even easier to focus your written content and landing pages around specific search queries.
48. Mark Webster
Mark Webster is the Co-founder of Authority Hacker, a leading online marketing education company.
Search volume is still one of the top metrics people look at when doing keyword research, but this priority should be reconsidered. 
You can use tools such as Ahrefs to analyze each SERP and determine the rate at which users click-through to a site.
Targeting a keyword with 500 search volume and 80% CTR means better potential traffic than going for a keyword with 1,000 search volume and 25% CTR.
Analyzing the click-through rate enables you to go for smaller volume keywords that other people would ignore, improving your odds even more.
It's also an incredibly powerful tactic to help you avoid wasting hundreds, if not thousands of dollars on content that will never drive any meaningful traffic.
Starting An Online Business? Build It On .Online!
49. Darko Jacimovic
Darko Jacimovic is the Co-founder of What to Become. 
My go-to SEO strategies are:
Republish updated blog posts
To be relevant to your audience and strong in the SEO game, you need strong content. However, you don't need to produce content from scratch at all times.
You can take your old blog posts, polish them, and update with new, relevant keywords and republish them.
Publish round-up posts featuring experts
Round-up posts written by experts are hot right now. They are a very efficient way to promote your content organically – most of the featured experts will be willing to share your content, thus exposing it to their audiences. 
It's essential to do some research beforehand to determine the most successful blogs in your niche and gather the contact information.
Send them an email asking for a round-up contribution, in exchange for a do-follow backlink, and you should be all set to have a nice piece of content that attracts multiple audiences.
50. Jakub Kliszczak
Jakub Kliszczak is a Marketing Specialist at CrazyCall, a cloud-based calling software that provides customer service teams and sales teams with essential tools to serve their customers and reach new leads. 
I'd suggest you use services, such as HARO and SourceBottle, where you can find journalists who are looking for experts to provide quotes on specific topics.
If you have expertise in any given field, these journalists will be willing to link to your website when they decide to include your quote. 
This way, you can create high-value links from top-notch outlets and, at the same time, create a social presence and establish expertise regarding your name and brand.
51. Jonathan Hill
Jonathan is the CEO and Chairman of The Energists, a management and staffing firm that caters to the needs of companies in the energy industry. 
Video content should be a part of your SEO strategy. Dwell time is an important factor in SEO rankings, and a good video can keep people on your website for at least a few minutes.
If your marketing team is creating blogs, have them embed a relevant video or two into each blog.
It's better to create your own video content, but if you don't have the resources to do that, find some relevant videos on YouTube, and embed them into your articles.
52. Mariya Bentz
Mariya is the Founder of MBM Agency, a digital marketing company that helps service-based businesses grow their revenue using online strategies. 
One of my favorite ways to be found on search engines is to utilize blogging. By using keywords and phrases that you know people are searching for in your blogs, gives you more chances to be found within Google's search results.
To write effective blog posts, you have to ask yourself: What does my audience want to hear? Write a list of titles that you think your audience would be interested in and then see real results. 
My favorite SEO tool is Ubersuggest. You can type in your titles and Ubersuggest will show you how many searches that keyword gets per month, and if it is easy to rank for that keyword on Google.
If you find titles that have high monthly searches— cha-ching! Once you figure out which topics are highly searched on Google, START WRITING!
53. Cady Cohen
Cady Cohen is an SEO Copywriter who enjoys injecting her creativity into her marketing efforts.
While there are many actionable SEO strategies, our team at Tandem Interactive tries to implement the strongest of the bunch for our clients. The primary SEO tool we use is keyword research.
Through the use of keyword research, our SEO specialists are able to determine specific queries and the exact terms we can use in our content to rank higher on SERPs. 
Another excellent strategy our specialists use is link acquisition. By implementing link acquisition, we are raising brand awareness for our clients while also showing search engines our clients' expertise through their backlinks.
Make sure you are using high authority links rather than low-quality links. 
You can reach out to influencers and relevant bloggers to link out to your website on their posts, or you can submit your clients' websites to business directories to expand their brand awareness.
54. Kuri Diaz
Kuri is the Marketing Supervisor with a degree in Applied Science in Digital Media & Communication.  
One of the best SEO strategies I can suggest is to use SEMrush.
Every month or so, I do a full site audit and look to see where we lack in SEO, whether its on-page or technical. Some examples are optimizing title tags and meta descriptions, removing duplicate content, adding more content to cover up for thin content, and fixing broken links. 
Another tip is linking products from your site in your blog posts. We write lots of blog posts about fitness, supplements, and lifestyle. And in our blog posts, we are linking to product pages to create a better SEO experience.
55. Andy Tuxford 
Andy is the Head of SEO at Exposure Ninja, a digital marketing agency for SMEs, eCommerce websites, and enterprises. 
If you want to employ a fairly simple SEO strategy, I'd recommend fixing 404 pages. 
To fix them, you can use Screaming Frog software to check the status code of all your website's pages.
Once you know which pages on your website have a 404 status, you can begin to categorize them into different actions depending on whether you want to keep them (or not.) 
If a page should exist but has been accidentally deleted or set to draft status, you should restore it. If the page shouldn't exist, the page will need to be redirected.
56. Niles Koenigsberg
Niles Koenigsberg is the Jr Digital Marketing Specialist at FiG Advertising + Marketing. 
At our SEO agency, the first steps of any given SEO project will typically involve a top-to-bottom website audit. We conduct the initial website audit to:
Look for and discover internal problems with the site

Identify ways that the site content and structure are negatively impacting search engine rankings
Our team will typically use the Website Auditor software tool from the SEO PowerSuite to fix issues such as:
Large image files that are slowing down your site load time

Broken links that are hurting your SEO rankings

Missing meta-descriptions or instances of keyword cannibalization
Once the website audit is over, and the issues are corrected, we move onto additional SEO tasks and other strategies.
Starting An Online Business? Build It On .Online!
57. Olga Mykhoparkina
Olga Mykhoparkina is the Chief Marketing Officer at Chanty – a simple AI-powered team chat app. 
Thanks to HARO, we've been able to get a minimum of 4-5 high-quality backlinks every week.
We pick the queries that relate to our company and respond with thoughtful, in-depth answers while following the media outlets' guidelines.
In terms of time spent and the results you can get, HARO is the most effective SEO/link building strategy we've tried so far.
Guest posting is another technique that we perfected. Guest posting has its own set of unique advantages such as branding and the opportunity to tell your story in more detail. 
58. Austin Shong
Austin Shong oversees SEO and SEM at a Utah based startup called Blip and enjoys freelancing in his spare time.
If you're doing all the right things, but just can't seem to break into that coveted above-the-fold position on the first page, try TF-IDF.
It stands for Term Frequency-Inverse Document Frequency and is basically counting the terms on top ranking pages that aren't actually your keyword.
These "semantic" keywords are terms that Google sees as related to the target keyword. 
I personally have put TF-IDF to the test with some of our highest traffic keywords.
Leaving all else as constant as one can in a world of ever-changing algorithms, I made modifications to 3 page/keyword combinations based on semantic keywords I gathered from TF-IDF.
After several months each went from positions 9-12 to the top position. 
59. James Rogers
James Rogers is the Digital Marketing Manager at Powerblanket, a manufacturing company based in Salt Lake City, Utah. 
One of my top actionable SEO strategies currently is based around earning featured snippets and optimizing pages with structured data, but specifically the "zero position."
I start by using different SEO tools to identify relevant keywords that have the "zero position" feature in SERPs.
Google has shown that it usually populates featured snippets from the top five results, so I pull all of my keywords that are ranking high enough and begin performing a simple competitive analysis for the top 10 pages ranking for that keyword.
I assess the site that is currently winning the featured snippet and adjust my page to offer the same information that is currently being used. 
60. Brandon Amoroso
Brandon founded ElectrIQ Marketing in 2018, intending to help businesses grow their digital footprint and acquire new customers.
The top actionable SEO strategies that everyone should know are the following:
Start outreaching to anyone and everyone. Backlinks are super important to make yourself known online and to help others find your company faster.

Use a free tool like KWFinder to start identifying content you can write about on your site.

Run an audit on your current site to figure out how it can be improved. Download Screaming Frog or some similar tool to make sure your technical SEO is in order.

Make sure you have Google Analytics and Google Search Console set up on your site to track your progress.
61. Chane Steiner
Chane Steiner is the CEO of Crediful, based in Scottsdale, Arizona.
Get rid of your dead pages. These are pages that don't do anything. They don't bring in traffic and don't really add anything constructive or useful.
Maybe they are just filler pages, used to make your site look more robust. Deleting them will improve your ranking, and that will encourage more traffic to your website.
62. Rens van der Windt
Rens van der Windt is a senior SEO specialist based in London.
Dos
Create internal linking modules. It makes it easy for search engines to crawl from one page to another.
Use exact match anchor text. If your internal links use the word (anchor text) of the page they link to, that provides a very clear signal to Google.
This will aid page discoverability and improve your chances of ranking better with the pages you're linking to.
Don't
Block your pages in your robots.txt file. If you block your pages from your robots.txt, you give search engines the instruction to stop crawling your content.
If you have a robots.txt, you can check which pages are disallowed from crawling by adding "/robots.txt" to your domain. 
63. Anthony Gaenzle 
Anthony is a director-level marketer, and currently runs the marketing departments for SE Healthcare and a new marketing firm, Granite Creative.
Building high-quality backlinks will continue to be a crucial component of any SEO strategy. Build relationships with editors at high-quality sites and contribute content.
Find broken links in relevant articles on high-quality sites and connect with site owners with a suggestion to update the link to one that sends traffic back to your site. 
Work through sites such as Help A Reporter Out (HARO) to connect with writers seeking sources for their articles and provide valuable, relevant quotes.
Use the power of social media to boost the reach of your content and earn links to your website. 
64. Omar Fonseca
Omar has a background in business, marketing, and entertainment. 
Broken Link Building is a link building strategy that most SEO Professionals have never tried.
The purpose is to find broken links (leading to 404 Pages) in articles/blogs on websites with content relevant to yours and replace the link with a working link to similar content on your website. Here's how it works:
Find broken links on webpages (Chrome Extension 'Check My Links')

Retrieve content from the broken link (Chrome Extension 'Wayback Machine')

Replicate content that used to exist at that link and reach out to the website linking to that broken resource and suggest they fix their broken link with your working link.
Turn a single broken link into hundreds of link opportunities. Using Moz's 'Link Explorer' (or similar tool), enter the broken link. Click on 'Top Inbound Followed Links to the Site' which retrieves a list of all web pages linking to that broken link.
Reach out to those websites and suggest they replace the broken link with your working link.
65. Tim Brown
Tim is the owner of Construction Leads, a marketing agency based out of Minneapolis that specializes in SEO and Web Design. 
Content marketing is the fuel to obtaining web traffic, and SEO is the task of making sure the content works properly.
Actionable SEO tip is to do something we call 'On-Page-Level-Ups.'
All you do is perform thorough on-page SEO strategies for a post that has been posted for 6 months or more. It's because the content has had time to "marinade" and amass some keyword value.
Check its search data and optimize it for its top-performing keyword. It's like a steroid shot for an already performing blog post.
66. Pete Callaghan
Pete is the Co-founder of Promo.ly, a music promotion tool for record labels and music publicists.
I think about the types of customers I want to drive towards our company and the questions they may be asking.
Once I have some ideas, I run these through a keyword research tool (Neil Patel's UberSuggest is free) to see how many other people are searching for the same questions every month. 
As a minimum, I try and find the questions with at least 1,000 searches, without too much competition.
Most keyword research tools give further suggestions based on your input. Again, look for keywords with the highest amount of searches.  
Take these ideas and begin forming titles and subheadings. If you're writing a 1500 word blog post, find five questions/keywords fitting and produce subtitles out of them. Write 300 words per subheading.
67. Andrew Allen
Andrew is the Co-founder at Hike SEO.
My top SEO strategy right now is to review all your copy in accordance with the Google Natural Language API. This free tool will show you which entities (these are essentially keyword topics) it finds within your copy and assigns a relative 'salience' score to them.
This essentially means what correlation those entities have with the entire text. The higher the salience score, the more Google associates your copy with that keyword topic. 
68. Emil Kristensen
Emil Kristensen is the CMO and Co-founder of Sleeknote.
One of the top actionable SEO strategies you should be utilizing is customer reviews.
Reviews from customers are social proof that your brand is credible and your product is of good quality. 
While writing reviews, customers tend to couple your keywords and positive language organically, for example, by saying, "This is the best SEO tips article I've ever read."
Search engines begin to associate your firm with these positive phrases, which can result in higher page rankings and increased conversions. 
By using invitation-only platforms, you can solicit reviews from only genuine customers and reduce potential skepticism people may have about your great ratings.
69. Kaitlan Darby
Kaitlan Darby is a Content Specialist at Online Optimism, a leading digital marketing agency located in New Orleans.
Crafting consistent, high-quality content over time is the best thing to do to increase visibility on Google, but in many cases, people are looking for quick fixes.
The easiest way to see fast SEO gains is to check your website's average page load speed. Having web pages that load in under three seconds is critical to your rankings. 
Use Google's PageSpeed Insights tool to gauge how quickly your site is loading. For faster site speed, optimize images for web browsing and reduce internal redirects. You can also clean up your code to get your page load faster.
70. Illia Termeno
Illia is the Director of the Extrabrains marketing agency. 
The best SEO strategy to follow in 2020 is to keep the hands on the pulse of Google updates. 
For example, the BERT update changed the way Google understands human language. It now has a better understanding of fine details. Moreover, it far better protects its users from overpromising marketing texts. 
It is still okay to mention in your writing that your product is the best in class. Though now you need to dedicate the bigger part of the writing to explain what exactly makes your product that good in a factual manner.
The best advice is to keep the interests of your target audience in mind and create high-quality content for them.
Which SEO strategy will you implement first?
These 70 SEO and marketing experts have witnessed fruitful results with these actionable SEO strategies. You can also do the same by replicating these tactics for your and your clients' businesses.
SEO demands time. But if you are consistent in your efforts and utilize fair strategies, you can definitely rank on the first page of search engines. 
Share this post with your colleagues and if you have any questions, let us know in the comments section.
Starting An Online Business? Build It On .Online!