How To Create And Optimize Your Google My Business Listing
While creating an SEO strategy, brands often tend to neglect their business listing on Google. Beyond offering a great website, creating and optimizing your Google My Business listing can help, particularly for brick-and-mortar companies who want to improve their rankings for local searches.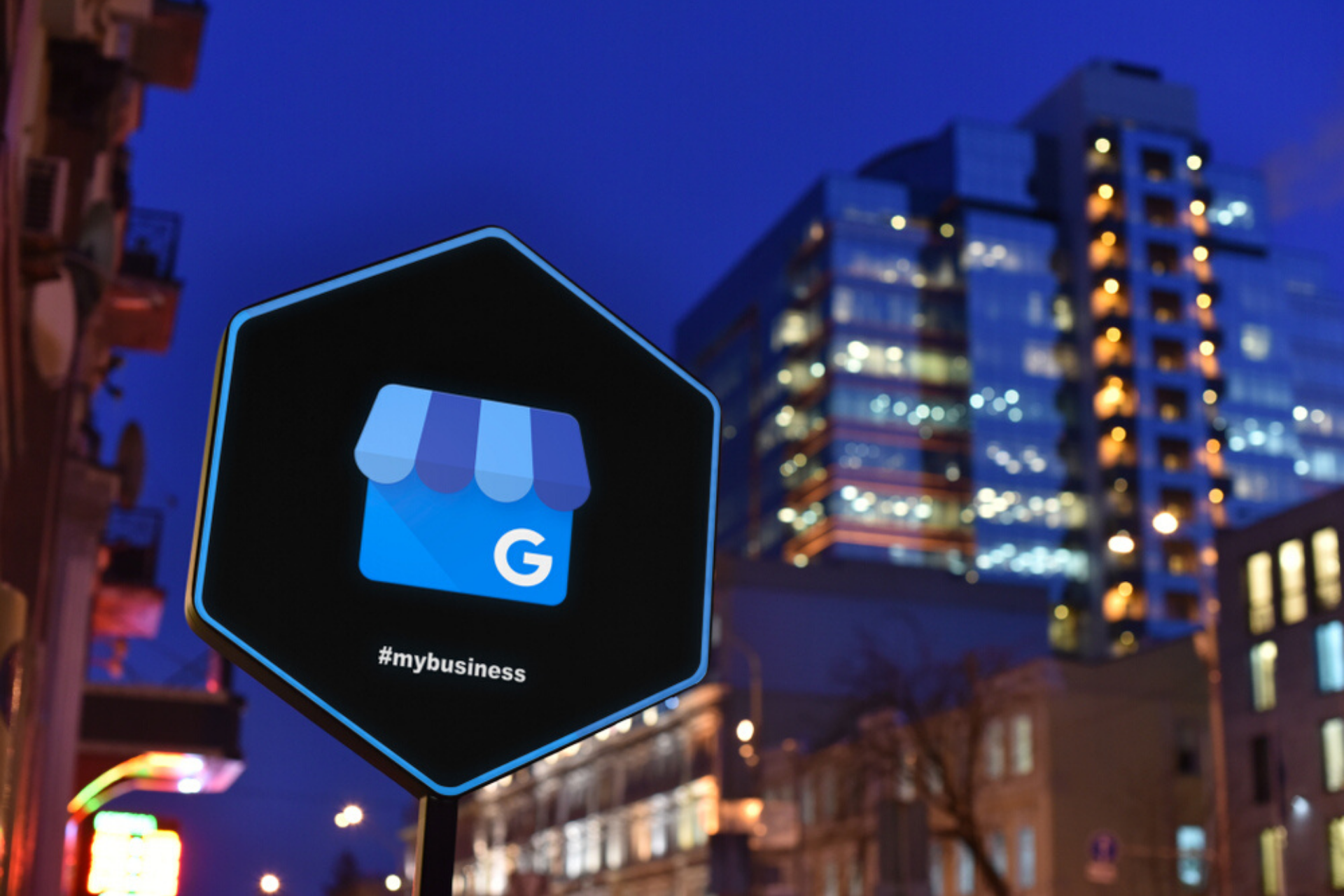 This blog offers a step-by-step guide to create and optimize your Google My Business listing so that you can make the most of this remarkable feature.
What Is Google My Business And How Is It Helpful?
Google My Business (GMB) is a quick and easy business listing tool that allows you to enhance your online presence and manage how your business appears on Google Search and Maps.
GMB listings are ideal for organizations that have a storefront or some form of face-to-face interaction with customers, as it maximizes their local exposure.
For instance, if someone is looking for an Italian restaurant in their area, they may not want to visit the websites of every restaurant listed in their search result.
Instead, they would prefer finding the address, phone number and timings of a specific Italian eatery to either make a reservation, drop by or make an inquiry.
GMB enables businesses to appear on such local searches at the right time, thus helping them attract more potential customers.
Steps of setting up a GMB profile
Before we dive into how to optimize your Google My Business listing, let's run through the steps of setting up a GMB profile.
Step 1: Create Your Google My Business Listing
First and foremost, go to the Google My Business page and start by clicking on "Manage Now". You can use an existing Google account or create a new one.
It will ask you to enter your business name to check if it already exists on Google Maps. Following are the three possibilities:
1. If your business listing exists, you will be notified.
2. If there is no existing listing, click on "Add your business to Google" and proceed.
3. If someone else has the claim to your business listing, you will have to request ownership of that business profile. 
Step 2: Update Your Information
While adding a new business, enter your office or store address correctly. You can also select a larger area in your city that your business serves or delivers to.
Next, add your contact details such as phone number and website link, along with operating hours, services offered and more.
Upon completing this form, you will have the full claim to your business listing.
Starting An Online Business? Start It On .Online!
Step 3: Verify Your Google My Business Listing
This is the step where you prove to Google that you are the actual business owner.
The most common way to verify a business is by mail. You will receive a postcard on the address provided, which will contain an enclosed code needed to complete the verification.
Other options include verification via phone and email, but they are subject to eligibility. 
Once you've verified your listing, you will officially be live.
6 Amazing Ways To Optimize Your Google My Business Listing
The next step to going live is to optimize your Google My Business listing. Here are 6 ways you can do that.
1. Enter All The Necessary Information
Google gives importance to search results that are most relevant to the search query.
Local search queries are more specific, for example, "real estate agents near me" or "best cafés in Oxford Street London". Therefore, you must provide as much accurate information about yourself as you can to improve your visibility.
Enter your complete address, business category and service area. 
If your store is closed on a particular day, mention that too. These small details can influence how your business listing shows up on Google.
Pro tip: Ensure every piece of information you provide on GMB is consistent across your website's contact page and social media platforms. This eliminates confusion and reinforces your credibility.
2. Incorporate Keywords In Your Company Description
When it comes to ranking on search results, keywords are everything. The way you use keywords in your website content and meta tags, you can do the same with your GMB profile.
To further optimize your Google My Business listing, conduct a search on what keywords are most popular with respect to your business and include them in your description.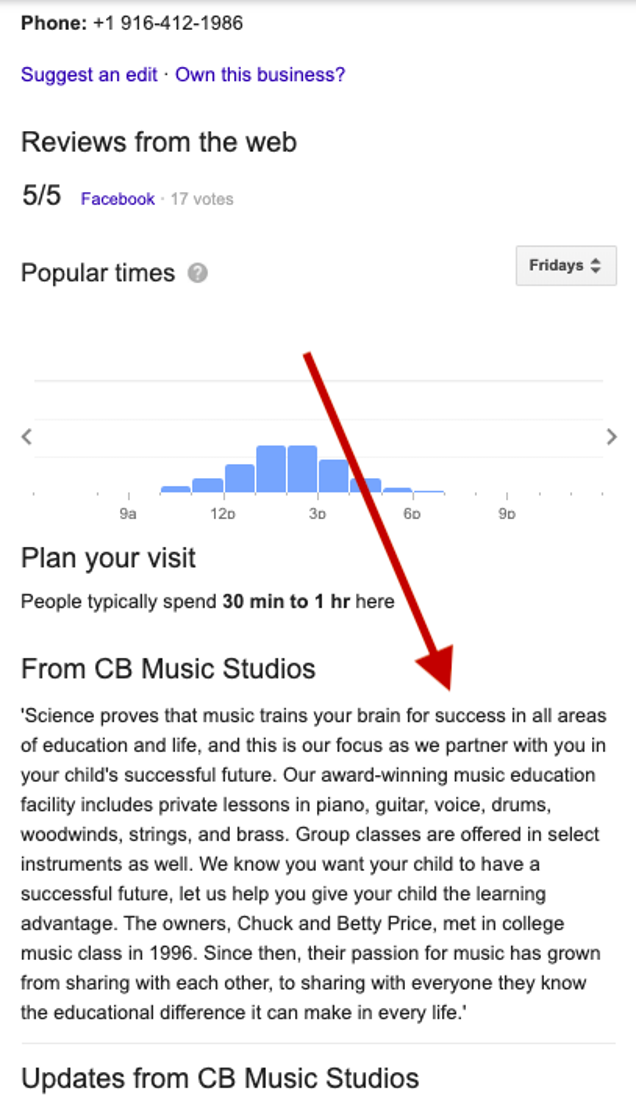 3. Include Visuals Such As Images
A great way to optimize your Google My Business listing is by adding images to your business profile.
Upload a high-resolution image of your logo so that customers can identify your brand. Add an appropriate cover photo that fits the 16:9 aspect ratio.
Include photos of your store, restaurant, hotel, facility or office to give potential customers a virtual tour of your business' interiors and exteriors.
It helps them trust your business when they see photographs of it and also impacts their decision of engaging with you.
4. Create GMB Posts
GMB posts serve as a creative way to add new updates about your business and its offerings.
For instance, if you have a Christmas-themed event in your bakery, you can create a post with the date and time, along with a link to the registration page. 
You can also inform your customers about a sale or a new feature through these posts.
Using call-to-action (CTA) buttons such as "Call Now" and "Book an Appointment" in these posts increases your likelihood of conversions since searchers are looking for an immediate solution within a certain location.
You can do this by going to your GMB dashboard and selecting the "Post" option on the top-left side.
5. Be Proactive In Answering Questions
The GMB listing box includes a Q&A section, allowing customers and prospects to ask the brand any question.
To better optimize your Google My Business listing, you should take full advantage of this feature by proactively responding to queries.
This not only gives your company a human touch but also provides ready answers to other users who may have the same question.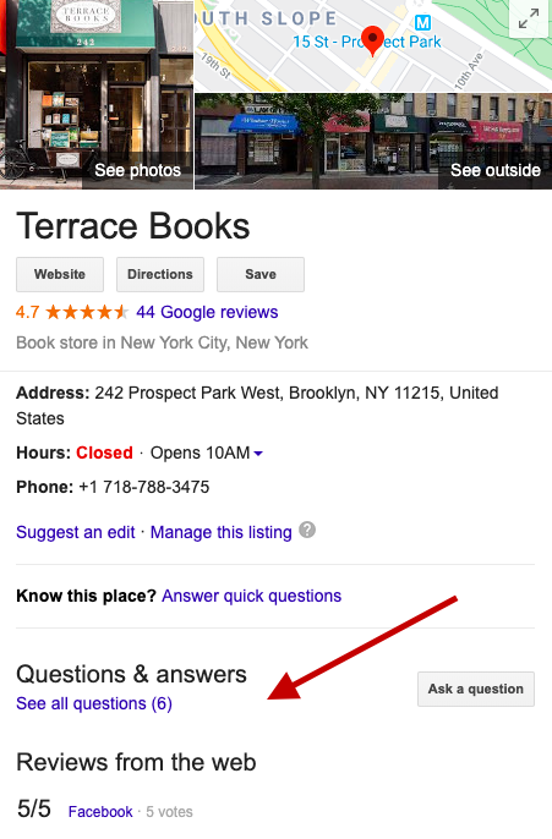 6. Encourage Ratings And Reviews 
82% of consumers read online reviews for local businesses, whereas only 53% of consumers would transact with a business with less than a 4-star rating.
Potential customers are most likely to look at feedback from other customers about a company and its product or service.
Encouraging your existing customers to leave a star-rating on your GMB profile and write reviews can do wonders for your conversion rates as it strengthens their confidence in your business.
Pro tip: You can maximize the results of these reviews by replying to them regularly.
Conclusion
Following these simple steps to create and optimize your Google My Business listing can be a game-changer for local businesses.
Here's a quick recap – Ensure all your information is accurate, consistent and tailored for local searches. Use industry keywords in your business description, specifically those pertaining to local search phrases.
Include CTA buttons to maximize conversions. Keep your images authentic, high-quality and as per aspect ratio.
Answer questions in a manner that gives your customers and prospects a solution while redirecting them to your store or office.
Lastly, provide your customers with an experience that compels them to write a positive review.
Starting An Online Business? Start It On .Online!