Google My Business Account – Everything You Need To Get Started
Google My Business (GMB) account is possibly one of the most useful enterprise tools on the internet.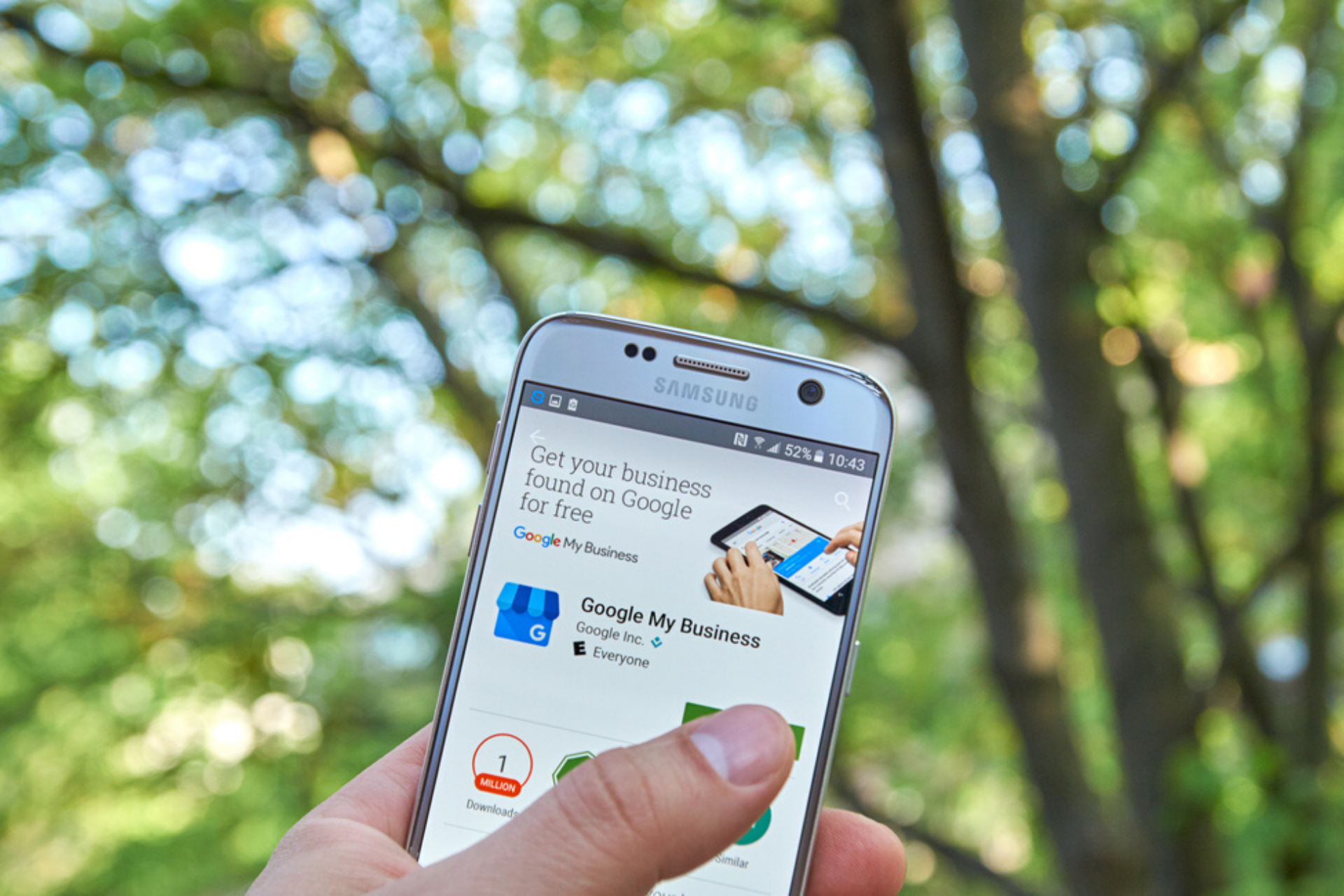 Remember looking up that restaurant you once went to and wanted to order from? All you did was probably look it up on Google and, lo and behold, all of its information was ripe for the picking. 
Google My Business Account is the information visitors see on the right side of the Google search results page. It has your business's contact information, ratings, pictures, and other important information that customers need.
Think of it as an enhanced listing on the world's biggest Yellow Pages.  
The GMB account enables businesses to appear on local searches at the right time, thus helping them attract more potential customers. Therefore, neglecting to make one could be detrimental to you especially if you're a local business. 
In this article, you'll learn:
What is Google My Business Account?
How to set up your Google My Business Account?
How to verify your business on Google?
What is Google My Business Account pricing?
How do you manage your Google My Business page?
How can you advertise your business on Google?
What is Google My Business Account?
Google My Business is a free tool by Google that allows you to promote your business profile and business website on Google search and maps.
It's a great tool for businesses that are operating locally.
Google My Business account allows you to connect with your customers, share updates to your business profile, and see how customers are interacting with your business on Google.
Why Should You Use Google My Business Account?
Google My Business gives your customers an opportunity to review your business and leave feedback.
Not only does this boost your appeal to potential customers, but you also get honest feedback about the things you're doing right and the ones you need to improve.
Honest reviews also build trust and confidence among potential customers.
How To Verify Your Business On Google?
Your goal is to get complete access to your Business Profile on Google.
You can do this through your Google My Business account which you sign up for using your standard Google Account.
Here are 5 simple steps to complete this process:
Ensure you have a standard Google Account for your online business
Ensure you have a Google Business Profile
Create a Google My Business Account (the steps to do that are below)
Make a request to claim your Business Profile
Follow the steps to verify ownership of your business
With these five simple steps, you'll be able to successfully claim and verify your business on Google. Below this, you'll see three steps on how to set up your Google My Business Account. Follow them and you'll have your Business Profile up and running in no time.
How To Set Up Your Google My Business Account
To set up your Google My Business Account, follow this simple 3-step process.
Step 1: Create A Listing For A Google My Business Account
Seems pretty straightforward, right? It actually is. And here are the steps: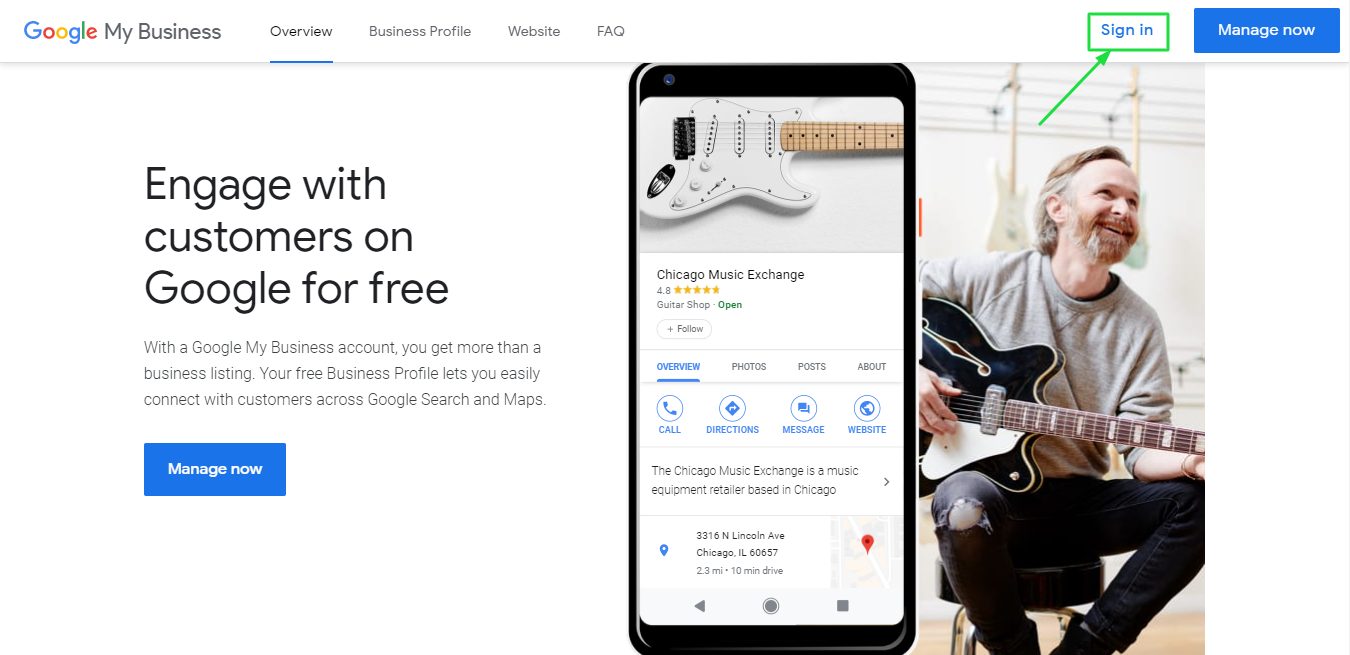 Chances are that you

have a free Google Account

. If you don't, setting up is as simple as going to

Gmail's website

and signing up.

Once you have a Google account, go to the

Google My Business Page

and click on 'Manage Now'. 

It'll take you to a new page where you can either:

Add your business to set up your Google My Business page.

Look your business up through the search option and start managing it. 

Or

request ownership

,  if your business has been claimed by somebody else. 
In the third scenario, when you request ownership, the current manager/ owner of Google My Business Account will be given 3-7 days to respond. Three things can happen hereon:
If they approve your request, then it's smooth sailing.

 If they deny it, you can always suggest edits or appeal to the ownership claim. 

If they don't reply within the time period, you may have the option of claiming your Google My Business account.
Step 2: Add Relevant Information About Your Business
Every Google My Business account has a business type: it can range from being a restaurant to a ski lodge.
If your business has an office or a store location, you should definitely add that. This will let help bring in more local traffic. 
You can also select a larger area in your city that your business serves or delivers to.
Once you've done that, you can add other information, such as a phone number, a website link, and your business operating hours. The more information you add, the easier it is for your customers to reach you. 
Voila! Just like that, you have a claim to your very own listing via a Google My Business account! However, you're not done just yet. Your 'how to set up a Google Business page' guide needs one more ingredient- verification. 
Step 3: Verify Your Google My Business Account
The final piece of setup requires you to legitimize your listing. You can do that by: 
Getting a postcard. You can get this at the address you've provided. This is the most common way of getting your Google My Business Account verified and is available for all businesses. 

Choosing to verify via phone and email, but they are subject to eligibility.

Looking for other options such as bulk verification of 10+ business locations. 
Once you're verified, your listing will officially go live.
Starting An Online Business? Build It On .Online!
What Is Google My Business Account Pricing?
It's free. No asterisks, no questions asked. A quick visit to Google My Business account's FAQs page will reveal that all features of the service are free of cost, unconditionally. 
Reports claiming potential future pricing options have surfaced. However, their guesses and predictions have been proven wrong by Google, thus far. All you need to do is list and verify your business on Google and you're good to go. 
While it is free to list your business, it also costs money to advertise the said business on Google to ensure that your business page comes up for a specific set of keywords.
However, paid to advertise is just a part of optimizing your Google My Business Account. There are a plethora of other features that once activated and figured out, can really add an ace up your listing-sleeve. 
How Do You Manage Your Google My Business Page
Mentioned below are 11 ways you can manage your Google My Business Page for maximum results.
1. Enter Detailed Information About Your Business
Google has an algorithm that shows accurate search results for relevant queries. However, that can only happen when you've entered all the necessary information that can get your business to show up in the search results. 
Local search queries are more specific, for example, "real estate agents near me" or "best cafés in Oxford Street London". Therefore, you must provide as much accurate information about your business as you can to improve your visibility.
Along with this, enter your complete address, business category, service area and continually update your Google My Business account with days and times that your business does and does not operate on. 
Pro tip: Ensure every piece of information you provide on GMB is consistent across your website's contact page and social media platforms. This eliminates confusion and reinforces your credibility.
2. Incorporate Keywords In Your Company Description
Keywords have the power to make or break your business's ranking in Google's search results. Just like with websites and blogs, a Google My Business account will also benefit from the right set of keywords. 
The search engine has its very own tools that can help you with keywords. Google Keywords Planner is a great tool from Google Ads to look up relevant tags to use with your Google My Business account. 
 Google Trends, on the other end, can highlight trending topics in your industry. You can narrow down the results to show trends in a city, and even in a district.
If you run a coffee shop in New York, for example, you can see the kind of coffee your potential customers are most looking for, the most searched coffee shops in the city, and even how often coffee or coffee shops are being searched on Google. 
There are also third-party tools, paid and free, such as Soovle that you can use to find relevant keywords. 
Once you've decided the keywords, place them in your business description, and even your business's subheading to rank better on the results.
3. Include Visuals
This is especially true if your business is a brick and mortar store, or is in the service industry. Images and other visuals have the potential to increase both your offline and online visits. The visuals are a demo, of sorts, to tell customers what you're really providing. 
Here's what you should do:
Upload a high-resolution image of your logo so that customers can identify your brand. Add an appropriate cover photo that fits the 16:9 aspect ratio.

Include photos of your store, restaurant, hotel, facility, or office to give potential customers a virtual tour of your business' interiors and exteriors.
4. Create Posts Through Your Google My Business Account
Posts can help you engage with your potential customers on Google. They're very easy to create on Google My Business account. Depending on your device, it can be as simple as signing in to your account and clicking on 'Posts' from the menu option. 
For instance, if you have a Christmas-themed event in your bakery, you can create a post with the date and time, along with a link to the registration page. 
You can also inform your customers about a sale or a new feature through these posts. 
Using call-to-action (CTA) buttons such as "Call Now" and "Book an Appointment" in these posts increases your likelihood of conversions since searchers are looking for an immediate solution within a certain location.
5. Be Proactive In Answering Questions
The GMB listing box includes a Q&A section, allowing customers and prospects to ask the business any question.
To better optimize your Google My Business listing, you should take full advantage of this feature by proactively responding to queries.
This not only gives your company a human touch but also provides ready answers to other users who may have the same question.
Starting An Online Business? Build It On .Online!
6. Encourage And Reply To Reviews
82% of consumers read online reviews for local businesses, whereas only 53% of consumers would transact with a business with less than a 4-star rating.
Potential customers are most likely to look at feedback from other customers about a company and its product or service. 
Encouraging your existing customers to leave a star-rating on your GMB profile and write reviews can do wonders for your conversion rates as it strengthens their confidence in your business.
Additionally, replying to the reviews will only yield positive results. Replying to a negative review and solving the problem for an aggrieved customer will only build a potential customer's confidence in your business.
At the same time, thanking customers for a positive review will add to an already-existing positive perception. 
7. Update Your Information If You Are Temporarily Closed (Or Otherwise)
Updating your information is crucial to maintaining a healthy Google My Business account. You wouldn't want your customers heading to your store, only to find that it is closed for the winters, right? 
If you're going on a vacation, have a seasonal off, or are closed for renovations, you can let your customers know that and it's very easy. 
All you have to do is:
Sign in to your Google My Business account, scroll down to Info

on the left menu.

A new settings menu will appear on the right. Scroll down till you see 'Close This Business On Google'

Then simply click on 'Mark This Business As Temporarily Closed'. 
The info menu can also be used to set Special Hours (such as hours during holidays) and More Hours (depending on your business type, it can be hours of delivery, takeout, etc.). The idea is to make sure your business hours reflect the real world as much as possible.
8. Add Attributes To Your Business
Remember seeing that café on Google with the free Wi-Fi? Was that a deciding factor for your visit? Chances are, even if it wasn't, it played a major role in it.
Adding attributes to your services will only give you the edge over competitors. The Info menu plays a big role here, too. 
After choosing the menu, head on over to "Attributes", and then "Add Attribute". 

Then, click on "Edit Attributes" and lookup for the attribute you want to add.
There you have it! Telling the world about your add-on services is as easy as that. The simplicity of this task is deceptive of its effectiveness. 
9. Set Up The Messaging Feature
Setting up messaging on your Google My Business account is as easy as:
 Signing in

 Heading over to 'Messaging' on the left menu

Verifying your business number

Once you're done with this, you can turn messaging on, or off on your smartphone. To do this, you need to have the Google My Business app on your phone. 

On the app, simply tap "Customers", then "Messaging" and then turn it on – this procedure is the same for both Android and iOS. 
Now you can communicate with your customers in real-time through your Google My Business account. 
Google has a requirement of a business replying to customers within 24 hours- and that makes sense. No customer would want to be kept waiting for more than a day to get a question answered.
If you're on vacation or temporarily closed, make sure you turn off Messaging, because this feature may be deactivated if you fail to comply with the 24-hour rule.
10. Turn On Bookings
It can be very convenient for customers to simply book appointments with your business through Google. It removes the additional hassle of heading to a third-party website and navigating to your business from there.
Google is both familiar to navigate and probably the first page to open on your browser. To tune on bookings, you need to:
Sign in to your Google My Business account 

Head over to Bookings on the left menu 

Google has a list of partner scheduling providers, and once you head to bookings, you can choose one of your choices
It takes about a week for your scheduling button to appear. But once it does, it becomes an invaluable feature for your Google My Business account. If the menu does not show up for your business, this means that the feature isn't there for your business type/ area.
11. Make Use Of Google Assistant
The only caveat here is that you have to be a business in the United States, for now. With the Google Assistant, you can receive automated calls from Google when your customer tries to book your services via your Google listing. 
To opt-in (if you haven't already), you need to: 
Sign in to your Google My Business account

Verify your phone from the Info menu  (mentioned above)

Then from the same Info menu, head over to Google Assistant calls

Check the box 
Boom! Just like that, you'll get awesome, automated calls from Google when someone tries to book your services. Additionally, Google uses this feature to call you about any unconfirmed information on your listing. 
Having a well-managed listing on Google is great. But the process of being visible on Google doesn't end there. Through direct and indirect advertisements and partnerships, you can increase your visibility on Google. 
Starting An Online Business? Build It On .Online!
How Can You Advertise Your Business On Google?
Advertising your business can give it a great boost in visibility, in addition to already being listed on Google. Listed below are a few ways to advertise your business on Google. 
1. Start A Campaign On Google Ads
Creating a campaign on Google is easy. The platform provides a step by step guide that can help you design your tailor-made online ad. To start a campaign you need to:
Sign in to your Google Ads account 

Click on Get Started 

You'll be taken to a page where you'll be asked to choose your campaign goal. Do you want to get more calls? Do you want more sign-ups and visits on your blog? Would you like more people to come to your restaurant? That is a call that you'll have to make.

Once you're done doing that you need to enter your business name and the website URL.

Google will, then, ask you to choose the area you're targeting. Choosing a specific area will lead to a much more relevant customer base being targeted. 

After you're done choosing your area, Google will ask you to search for keywords.
As mentioned above, you can head to Google Keywords Planner, Google Trends, or a third party application to help you figure out the best keywords. 
After that, you'll get the option to choose your headlines and descriptions, with a cool preview available on the side. Once you're done customizing your ad, you have to figure out the budget and billing options on Google. 
This will help you create ads that appear on Google search pages. They're effective and a good way to get your business noticed.
2. Advertise On YouTube
YouTube is the world's most visited video hosting platform. In fact, it is the second-highest visited website after (you guessed it) Google.
Since a lot of video searches happen on Google as well, chances are that advertising on YouTube will get you to the top of Google searches, indirectly. 
There are a few ways to advertise on YouTube: 
Partner with a creator: Contact a relevant, local creator and act as their sponsor or get a video made around your services. The word of mouth helps and the more popular the creator, the greater your chances of dominating Google searches. 
Advertise directly on Youtube: Go to the Youtube advertising page

and choose the type of ad you want- an image or a video. Much like the Google Ads option, navigating through YouTube ads is also a breeze.
3. Advertise On A Website
While many websites opt for Google AdSense and have Google ads on their websites, many popular, locally operational websites may advertise your business.
The only catch here is that the third-party website needs to be SEO friendly. If it doesn't appear on the first page of Google's search engine results for keywords associated with your business, it may not be worth the investment.
4. Set Up A Google Shopping Campaign
A derivative of Google Ads, Google Shopping campaigns are excellent if you sell your products online. With shopping campaigns, you can simply promote products whose visibility you want to increase. 
It is a bit different than simple advertising because through a Shopping campaign you divide your product into product groups based on the category and then place a bid on them based on your campaign goals. 
It is a great way to give limelight to your products if you are an eCommerce company. 
To get started with Google Shopping campaigns, you need to have a

Google Merchant Center account

. 

Once you have that, all you have to do is head to Google Ads and start a new campaign, with 'Shopping' as your campaign type.
Starting An Online Business? Build It On .Online!
5. Utilize Display Advertising
An effective campaign not only relies on the Google search engine but also Google's wide range of products and even websites that opt for Google ads.
If you've used Google products before (and chances are that you have), you may have come across banner ads on YouTube.
To make Display ads more effective, go to your Google Ads account and make sure your ad is targeting the right customers on the right websites.  

Under the All Campaigns tab, click on Display Network

Once you get there, you can adjust your targeting with keywords related to your company, products, or services.
6. Hire a Search Engine Optimization Expert
This isn't really advertising, but more like a supplement to it. However, getting an SEO expert can massively boost even your business website's organic appearance on Google. 
An SEO expert can also enhance your Google My Business account description, which will make it more relevant to the search engine, also.
Additionally, placing SEO friendly keywords on your Google Ads will greatly increase the impact and reach of your ads. Your ad will appear more often to the right customers.
7. Invest In Social Media
Social media marketing for small businesses is one of the best forms of advertisement and its two greatest strengths are reach and affordability. 
By investing in social media, you automatically increase your presence on Google and you don't have to pay a lot to do that. 
When someone searches for your company or related products on Google, chances are that one of the top results will be from a social media website such as Facebook. Having a presence on such websites automatically gives you greater visibility.
8. Sign Up/ Advertise On Websites Contextual To Your Industry
A quick Google search will reveal that the first result for 'order food' is Grubhub. It makes sense given the popularity of the website. It is the same for websites like Yelp, Bookings.com, and other aggregators. 
By signing up on and even advertising on such websites, your business is indirectly advertising on Google. It is a foolproof way to get noticed.
Google My Business vs. Google Places for Business vs. Google+
There are multiple options to manage your presence on Google.`Back in 2014, there was Google Places – a tool for entrepreneurs to manage their Google+ business account. Today, Google My Business is the central hub where you can manage how your business appears on Google Search, Google+, and Maps.
What's Google+? It's Google's social network where you can join or start Communities — public or private groups organized around a theme, such as baking — and follow or create Collections — something similar to Pinterest boards.
Having a Google+ account for your small business allows you to engage with other niche groups and share photographs and updates. It's almost like a Facebook page for your small business.
If you've set up your Google business account, then you'll be able to access your business's Google+ account from your Google My Business dashboard (but a Google+ account isn't necessary to have a GMB account).
In Conclusion
Following these simple steps to create and optimize your Google My Business listing can be a game-changer for local businesses.
Here's a quick recap:
Ensure all your information is accurate, consistent, and tailored for local searches.
Use industry keywords in your business description, specifically those pertaining to local search phrases.
Include CTA buttons to maximize conversions. Keep your images authentic, high-quality, and as per aspect ratio.
Answer questions in a manner that gives your customers and prospects a solution while redirecting them to your store or office.
Lastly, provide your customers with an experience that compels them to write a positive review.
Starting An Online Business? Build It On .Online!