Increase Your Social Media Audience With These 15 Strategies
There are various reasons to increase your social media audience.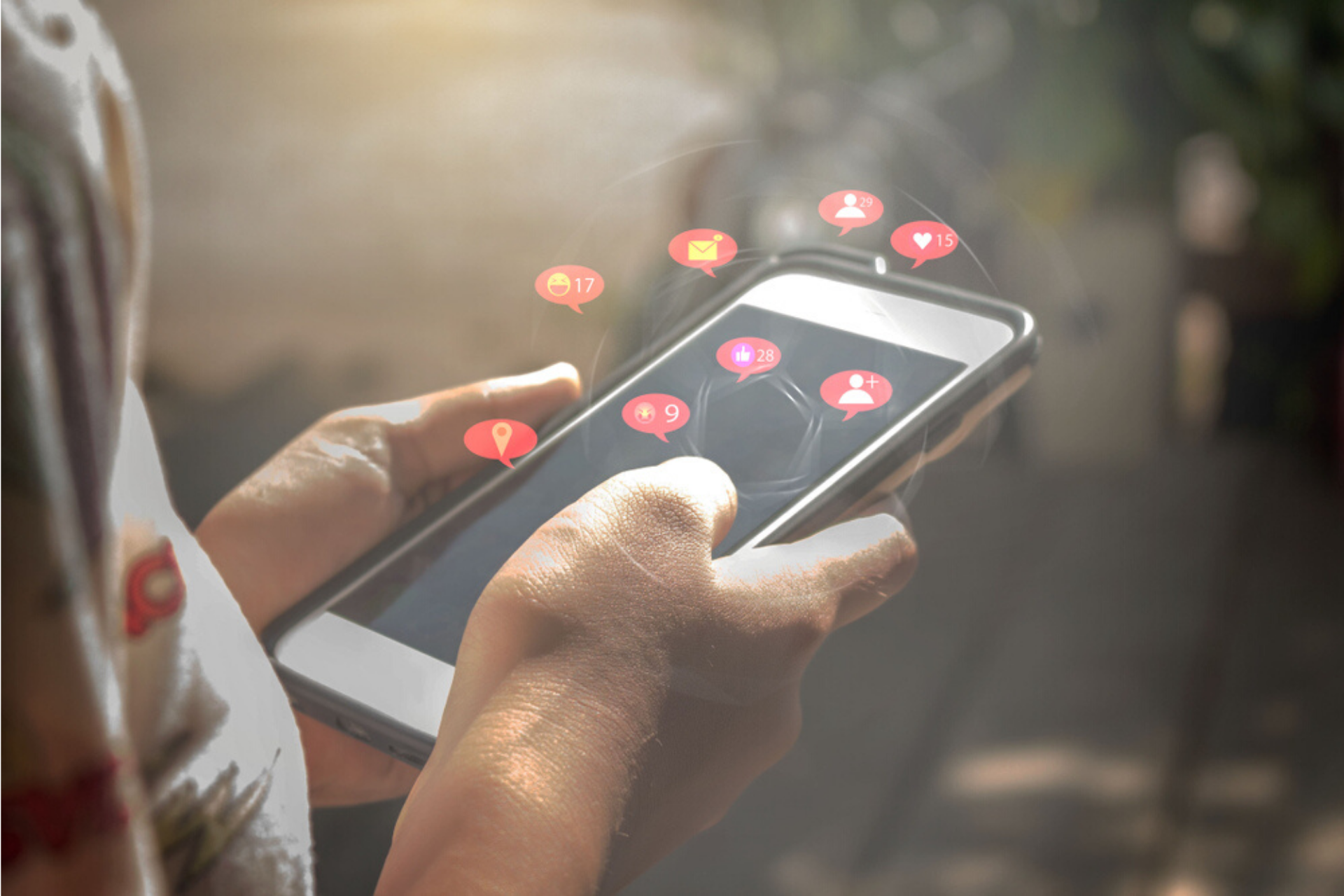 Branding, marketing, customer service, and social listening are some of the most important reasons that motivate businesses to grow your influence on social media.
Irrespective of your reasons, as a business, you must have a few practical ways in your kit to position yourself on social channels to attract relevant audiences that could become your loyal customers over time.
15 Strategies To Increase Your Social Media Audience
In this article, we've listed down 15 actionable strategies that'll help you build your social media audience on multiple platforms. And as a bonus, implementing these tips will also help you improve your social engagement.
1. Begin With Goal Setting
If you have a goal of achieving X number of followers in Y months, you'll accordingly build a plan to grow your social media audience.
Goal setting gives you a long-term vision and short-term motivation. It helps you mobilize your resources and organize tasks to accomplish the goal within a set timeframe.
An effective tactic here would be to create SMART goals to increase your social media presence. SMART stands for:
Specific,
Measurable,
Attainable,
Relevant, and
Time-bound
For example, you can set a goal to grow your Instagram audience to 10,000 followers in 6 months.
2. Identify Your Target Audience
Having a defined target audience is like hitting the bull's eye. You cannot target everyone on social media (or anywhere for that matter) because only a particular group of people is interested in your offerings.
You must create a customer persona, which is a semi-fictional representation of your ideal buyer.
Doing this simple exercise will help you in creating content that'll resonate with your target audience. A customer persona reveals customers' social media behavior as well.
To identify demographics, interests, and behavior, you can use tools such as Facebook Audience Insights that analyzes your Facebook audience to show you detailed insights.
3. Maintain Consistency To Increase Your Social Media Audience
Customers relate to brands that they often see and hear about. For example, when you hear Coca-Cola, you can immediately conjure up a red-and-white Coca-Cola logo in your imagination.
Brand consistency across social media is essential to increase brand value, improve customer experience, and render a long-lasting visual impact.
Try setting up a social media brand style guide that emphasizes color combinations, fonts, logo, image sizes, etc.
Every social media network has its size requirements. Customize your graphics according to the size guides. Also, your social media copy should be as per the platform and your copywriting style guide.
4. Build A Social Media Content Calendar
Building your social presence gets a lot easier and manageable when you adhere to a set content calendar.
Since social media management is an ever-going process, you need a calendar to track everything, such as – content creation, posting schedule, managing campaigns, abiding by deadlines, measuring results, and more.
You can either use a simple Google Spreadsheet or any social media management tool to create a content calendar.
In addition to creating a schedule, you can create tasks and assign responsibilities to social media managers. Make sure you post content at times when the engagement level is at the peak.
5. Deploy Social Media Automation Tools
Managing multiple social media accounts can be hectic and confusing. For example, if you are present on Facebook, Instagram, Pinterest, and Twitter, you can't hop on from one network to another all day.
Deploying a social media automation tool is a feasible way to increase your social media audience efficiently.
A social media automation tool will help you with scheduling, content creation, monitoring, analytics, team management, and security.
Further, some of the tools help you manage paid social media promotions as well. They also allow third-party app or tool integration to facilitate seamless workflow.
Starting An Online Business? Build It On .Online!
6. Add A Human Touch To Your Communication
There was a time when brands interacted with their audience on social media in a formal, almost robotic manner. Luckily, the tables have turned now.
To increase your social media audience, you must humanize your business and portray your true brand personality.
For example, instead of responding from your business account, let your employees take charge of interacting with the audience. The human approach, quirkier conversations, and personalized conversations can help render a more considerable impact.
Further, share pictures from your team outings', behind-the-camera updates, and more to nurture a personal bond with the audience.
7. Pay Attention To Every Response
Do you know 97 percent of review readers consider businesses' responses to reviews while making a decision?
So if you are skipping social media responses to reviews, queries, and comments, you are sabotaging your online reputation and hampering your efforts to increase your social media audience.
Since the majority of businesses are on social media, people prefer communicating with them on those platforms.
Talk to the people, resolve their queries, listen to their suggestions, interact with their posts and comments, and respond to their reviews. Try making up for a bad experience so that a customer feels heard and happy.
8. Focus On Solving Problems, Not Selling
On average, it takes 8 touches to schedule a meeting, or attaining a similar conversion, with a new prospect. The sale is not even in the picture right now.
When it's about increasing your social media audience, don't try to hard-sell your offerings in every alternate post.
Remember, the primary aim of social media is to promote user interactions. Focus on developing a connection with your audience, solve their problems, post informative content that addresses their pain points, and more.
When they start trusting you, sales will flow in automatically.
9. Collaborate With Influencers
89 percent of the marketers believe that ROI from influencer marketing is either better or comparable to other marketing channels.
You can also harness the potential of those popular in your industry to increase your social media audience. The key is collaborating with influencers in your niche, having similar audiences as yours.
People prefer the advice of those who they trust rather than celebrities. Therefore, collaborate with social media influencers and create informative content for the audience.
Let the influencers handle the narrative so that the audience can relate to the content.
10. Hold Contests And Giveaways
Contests and giveaways are a great way to engage your audience and have some fun along the way. It's a quick and legitimate strategy to increase your social media audience.
In addition to gaining an audience, you'll generate leads and brand advocates. There are so many ways to hold contests and giveaways.
For example, if you are a travel company running a contest for Valentine's Day, you can ask social media users to share their favorite picture from a couple's trip, tag two users, tag you, and share it on Facebook and Instagram. The lucky winner will get a week-long holiday trip to the Maldives.
Simple, easy, and effective.
Starting An Online Business? Build It On .Online!
11. Support A Social Cause
Social cause campaigns have a tendency to get noticed. It's human nature to empathize. Therefore, if you support a cause and contribute to it, you'll show your users that you care.
Make a strategy to promote your work for a cause on social media (don't brag but promote subtly.)
For example, TOMS, a shoe company famous for its buy-one-give-one-pair-of-shoes model, has been donating $1 for every $3 they make to Global Giving Fund for combating COVID-19 effects in the society.
They're not doing it for the publicity. However, it does help them in portraying their company as a responsible organization.
12. Stay Up To Date With The Latest Trends
If you can align your social media promotions with the trending topics, you're likely to gain some traction.
This is because social media platforms such as Twitter, Facebook, and Instagram are avenues where social interactions take place, whether it's personal, professional, or trending.
For example, assume you are a business that manufactures fitness apparel & goods. In these COVID-19 times, you can help people stay fit by sharing fitness videos, sharing diet tips, and more.
Further, you can share health tips to keep COVID-19 infection at bay. If you share valuable content, you'll increase your social media audience in no time.
13. Make The Most Of Videos
Social media posts with videos get 48 percent more views. This is one of the reasons why you should experiment with different formats of content, especially visuals if you want to increase your social media audience.
Instead of sharing text posts, you can convert those into jazzy visuals that are more captivating.
For example, instead of sharing health tips as a text post, create an infographic that presents tips in a visual format. Similarly, you can create videos, presentations, downloadable guides, podcasts, and more.
14. Tell The World You Are On Social Media
Businesses are establishing their presence on social media platforms, but they're not promoting it intensively. Organic reach is not as effective as it used to be a few years ago. Now you need to work harder – and smarter – to grow your social media presence.
Besides mentioning social media links on your website and blog, there are other ways to promote your accounts.
When you send emails, ask people to follow you on social platforms, run paid promotions to reach new prospects, collaborate with influencers, and so on.
15. Use Social Media For People, Not Followers
Most businesses focus just on the follower count–they want to see those numbers increasing. Having millions of followers is of no use if you don't consider them as real people.
Remember that social media users are human beings with emotions and intellect. Always cater to them in the way you would in the real world.
Create and share content that triggers emotions in them. While responding to their queries and suggestions, try to understand their perspective by stepping into their shoes.
Are You Ready To Increase Your Social Media Audience?
Social media is one of the best platforms to build a massive following of potential customers and brand advocates. You can attract, connect, and interact with social media users to finally convert them into customers.
Incorporate these strategies to take your social media presence to the next level. In due course of time, you'll develop a sizable online asset for your business.
Starting An Online Business? Build It On .Online!