How To Start A Restaurant In The US + Bonus Promotional Tips
Thinking about how to start a restaurant?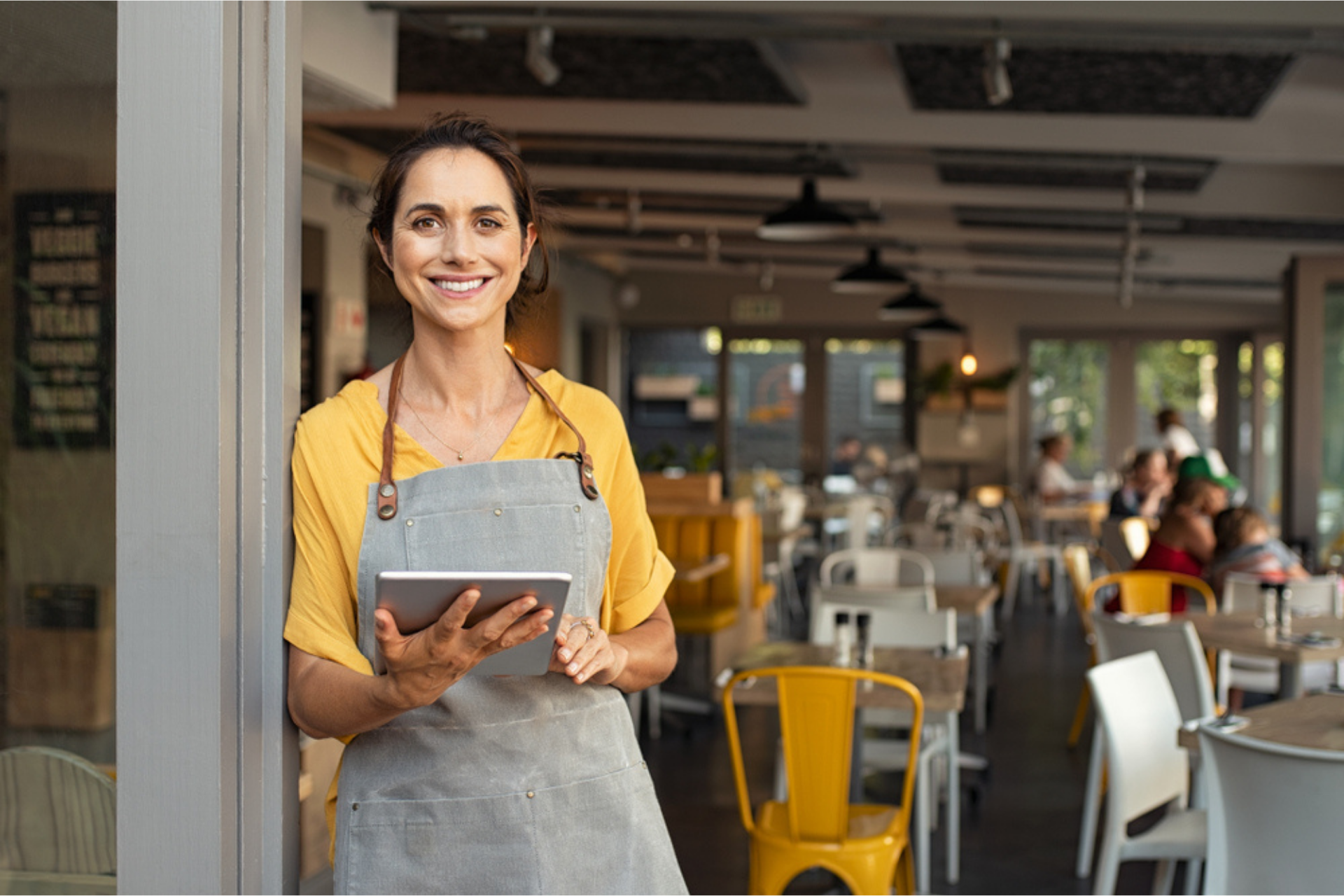 The foodservice industry is massive. USD 899 billion in sales is massive, in the US.
It is this scale that has given the world of restaurants its very own spotlight. Reality shows, celebrity chefs, Michelin Stars, and much more add to the industry's glamour. 
Add to that the fact that people don't stop eating and you have yourself a business that provides a service with a never-ending demand. 
With that being said, this isn't an easy world to survive in. 60% of restaurants fail within their first year. 
Those aren't great odds to work with. But the reality is that running a successful restaurant isn't about odds. It is about good research, great management, and making the right decisions. 
In this article, we look at how to start a restaurant that has the potential to be successful. 
1. Create An Online Presence
Why
Notorious Vice Creator Oobah Butler made his restaurant the most desirable place to visit in London by getting it to number 1 on Tripadvisor.
Except he didn't even have a restaurant. 
An online presence can be the difference between people knowing about your restaurant or not.
In densely commercialized metros, there are too many competitors vying for the same crowd.
What
To stand out, get online. Creating a profile on Yelp and delivery applications such as GrubHub is a great place to start. But also look at making Instagram and Facebook profiles. Also:
Take food shots and put them on social media.
Have your head chef/ cook make food videos.
Put your location and contact on your social handles.
Use social media to answer customers' queries. Make sure you have the chat feature on.
Even get on Twitter! Brands like Wendy's are doing a great job at it!
Finally, if social media isn't your cup of tea, get a website. Use your website as a place for customers to see your menu, location, pictures of food, and a word from you and your team.
Visibility is an important factor when learning how to start a restaurant.
Building your website? Build it on .Online!
2. Choose An Appropriate Location
Why
Location matters because it decides not only your revenue but at times your menu as well.
It is probably the first thing a  restauranteur considers when thinking about how to start a restaurant. 
Starting a deep-fried chicken wings restaurant near the suburbs might not be the best option. Permissions aside, parents might want to choose healthier options for their kids. 
Take the same restaurant to a college town, and you have yourself a winner.  Location determines two very important things: 
Your menu

Your approach to marketing
What
Your approach to marketing depends on whether your restaurant is in a densely populated area or in an isolated location.
Densely populated areas require you to market aggressively. Malls, for example, have competing restaurants lined up side by side in food courts.
To compete, you need to have ads, sales, and a great online presence.
Restaurants in these areas also often compete and compare on speed so as to meet busy lifestyles and get more feet in.
Isolated locations require you to position smartly. If the affordable location has given you a larger space, think about how you can weave this into a USP over metro competitors.
Double down on the quiet location. Maybe market this as a place to go with your family, or on a great date.
Both locations require you to market the experience and the food. The what and how to change depends completely from location to location.
As a result your menu also changes. Restaurants in quieter areas often have the time to prepare more elaborate dishes, whereas restaurants in densely populated areas can benefit from fast food and service.
This isn't a hard and fast rule. Think about how you can use your location to your advantage.
3. Prioritize Hygiene, Food Laws And Regulations
Why
Every restaurant needs to abide by food laws and regulations. And hygiene! It isn't a pretty sight to see a rat in your restaurant, despite the attempts from Disney's Ratatouille.
Building an online business? Build it on .Online!
What
Look towards the Food and Drug Administration (FDA) and the US Department of Agriculture (USDA) as your shining guides.
Additionally, every state has its own regulations and requirements that you must adhere to. Food is a very sensitive object to be dealing with.
Its consumption is vital, but can also prove fatal if hygiene isn't maintained.
Therefore, always keep regulations and hygiene in mind when thinking about how to start a restaurant.
4. Consider Becoming A Franchise
Why
Being a franchise comes with many advantages:
People already know about your franchise.
All marketing is taken care of by the parent brand.
The menu and staff training are often provided by the franchiser.
The parent brand has its own hygiene regulations, which help keep an extra eye on your storefront.
What
There are many franchises in the US. From McDonald's to Jersey Mike's, you have numerous options.
However, every franchise has its own criteria for choosing. So, choose a growing brand and research a bit more to find out.
5. Research Trends
Why
Trends aren't simply limited to design and fashion. Every industry goes through them.
Subway, for example, popularized the 'made in front of you' trend, which many chain restaurants have replicated over the years.
When thinking about how to start a restaurant, research on:
Cultural shifts and insights
Popular restaurants and what makes them in demand
Cuisines gaining popularity
Health habits and evolution in recent years
These are just a few places to begin your journey. When thinking about how to start a restaurant, always base that thought partially on research and data.
A word of caution: Trends and fads aren't the same thing. Trends indicate shifts in thinking, culture, and habits.
Fads are temporary spikes in cultures that die down quickly.
50+ Name Ideas For Your Restaurant Business
| | |
| --- | --- |
| smallindonesian.online | appealingkitchen.online |
| exhilaratingitalian.online | addictivekitchen.online |
| fairlychic.online | agreeablekitchen.online |
| showyandfashionable.online | allnaturalkitchen.online |
| muchbig.online | ambrosialkitchen.online |
| littlethird.online | chophouse.online |
| open-airfrench.online | cafeteria.online |
| obviouslyfancy.online | brasserie.online |
| favoritejapanese.online | house.online |
| classyfrench.online | chef.online |
| ratherposh.online | trattoria.online |
| cleanhigh.online | menu.online |
| tinyunpopular.online | rotisserie.online |
| fanciestnew.online | luncheonette.online |
| favoritekorean.online | sommelier.online |
| friendlynearby.online | coffeeshop.online |
| nearbycuban.online | pizzeria.online |
| goodgilt.online | Booth.online |
| balmyoutdoor.online | busboykitchen.online |
| contemporaryoccidental.online | buskitchen.online |
| obviouslyclassy.online | grillkitchen.online |
| garishitalian.online | waiterkitchen.online |
| hightonedfrench.online | steakhouse.online |
| queervegetarian.online | teahouse.online |
| hithertofabled.online | cocktaillounge.online |
| hushedandserene.online | table-hop.online |
| lovelyprovincial.online | specialeatout.online |
| positivelyclean.online | elementalkitchen.online |
| busychinese.online | encrustedkitchen.online |
| Grandmaskitchen.online | enrobedinkitchen.online |
| Momskitchen.online | enticingkitchen.online |
| acclaimedkitchen.online | kaitlyncooks.online |
Building an online business? Build it on .Online!
5 Ways To Promote Your Restaurant Locally
The foodservice industry is both large and competitive. Just like with clothes, people like window shopping at a restaurant and then going inside.
However, you can reduce that consideration period by establishing a place for yourself in their minds.
However, unless you own a multi-city/nationwide chain, your promotions will prove more effective, if created for local consumption.
This will also change how you promote, the kind of content you use, and the people you work with. In this article, we list 5 great local promotion strategies for your restaurant.
1. Create Promos & Promote Them Online
You've probably seen one of these viral restaurant promos on the internet. They work not only because they're shot so well, but also because the final editing gets people in the mood to eat!
You don't need to have a video-making expert at your restaurant. While your chef can take tabletop videos and make Reels, promos require a professional touch.
With that being said, you can easily get access to a videographer or promo maker.
These are some places you can try:
Fiverr/ Upwork: Fiverr and Upwork great places to find talent, both local and international. There are plenty of great videographers on both services and they'll get you a promo made if traveling to your restaurant isn't an issue. If not a videographer, you'll most definitely get editors on both platforms.
Local Universities: Universities often have physical and online bulletin boards, if not you can simply use a glass window in your restaurant and post about the need for a videographer.
Don't underestimate the skills of student filmmakers. They're taught filmmaking from an academic perspective and are more likely to aim for beautiful shots and take their time to make the perfect video.
Local Studios (Google): This will probably be the most expensive, but sometimes the best options are the most obvious ones. Google freelancers or studios in your area. You'll get more than enough talent to work with.
A videographer is great! But, you also need to help them realize your vision. In order to do that, you need to know what you want, which is completely your call.
However, here are some things you should include in the promo:
Food shots: Plate your dishes beautifully. Take tabletop, low-angle, moving shots of your food.
Staff: A happy staff always creates great perception. Show them making and serving food, interacting with customers, etc.
Preparation: Close-up shots of flames, food being prepared, ingredients used, etc.
Interiors: Lights, ambiance, and furniture will decide the kind of people who walk in through that door.
Name & Logo: Your aim isn't to get people hungry and go to a competing restaurant. It's to get them through your door. Make sure you show your restaurant logo and name a few times and also include it in the watermark.
Once you're done making the video, put it up online as a Geo-targeted advert. This will ensure that only the people in your city/ town are shown the video.
2. Host Events
Events can be a great way to get your customers engaged. Depending on the kind of restaurant you have, events can either help you get new customers or make loyal patrons out of your current crop.
Promote these online and locally and they will attract new visitors.
Here are some events you can try hosting:
Standup shows: Comedy shows are great for engaging a mass audience. You could assign a specific day to it and charge at the gate, or make it a complimentary event for your visitors.
Musical performances: Probably the most well-known in-restaurant performance. Local musicians need gigs and if they're good, they'll drive in more than just their friends into the restaurant.
Quiz Nights: Quiz nights are great if you have the right audience and a charming host. You could incentivize the activity for the patrons by throwing in discounts to the winners.
These are just a few events that you can host for your restaurant. Make them regular and word will spread, which can lead to regular patrons.
3. Participate In Local Fairs
Fairs provide great opportunities for small businesses to show their wares and interact with tourists and locals alike. Almost every town, big or small, has at least one every year.
Take up the opportunity and become a part of the community. It will not only lead to appreciation but may also get you, regular customers.
Here's how you can be a part of local fairs:
Purchase a mobile restaurant booth: If you don't mind spending on mobile cooking equipment, and disposables, you'll likely get the chance to interact with a lot of people in the area. You might make the money back, maybe you won't.
However, look at this as marketing spends and not as an opportunity to make money right off the bat. Get limited, but great-tasting food and customers will want more.
Cater for the fair: Some fairs provide complimentary food to their visitors. Some even don't have options for visitors to purchase from different booths, they just have to choose from the given options. You can cater if such an opportunity arises.
Providing food at a discounted rate will help you create a good relationship with local authorities, which will help create a great customer base and future catering opportunities.
Sell Ingredients: Does your restaurant offer specialty food? You can simply sell your ingredients instead of cooking for the fair. This will be cheaper than purchasing mobile equipment, but will still get customers interested in your food.
The more awareness you drive locally, the more regular customers you can get to your restaurant.
Building an online business? Build it on .Online!
4. Partner With Local Media/ Newspapers
Local newspapers, news channels, food blogs, vlogs, etc can provide great exposure to your restaurant. While most journalists will approach you themselves, you can also apply for sponsored content or ask to be reviewed locally.
Additionally, you can also look at local content creators. There is an influencer in just about every city with an internet connection. Their followers might vary, or not be comparable to those of global influencers.
But, the 5000-10,000 followers they have will likely be more contextual to your restaurant than those of an influencer with 100,000 followers from all over the world.
Get in touch with local media, as it will definitely help promote your restaurants and help you get more customers from your geographic setting.
5. Create A Blog
A blog is a great way for you to connect with foodies and people trying out certain cuisines at home.
While everyone on the internet can see your blog, you can add a local touch to it, so that readers in your community know where to get certain ingredients from, and how to find your restaurant.
Here are the kinds of blogs you can start:
Education on your cuisine: If you serve a cuisine that is unique to your geographical setting, you might want to teach people about it, in the first place. Your content doesn't have to be boring at all.
You can write articles on the benefits of a certain ingredient, or instructions on how to make a certain dish.
Health blog: If your restaurant focuses on healthy eating, you can talk about healthy recipes, macro and micronutrients, and various other health topics related to food.
Non-food themes: If your restaurant is the perfect spot for a date, create articles about that perfect date. Talk about sports if you have a sports-themed bar-restaurant.
In Conclusion
A restaurant is not an easy business to get into. A lot of time, research, and care have to be put into it in order to make it successful.
However, successful restaurants can develop regulars, a cult-like following, or even an entire fanbase.
Great service, quality food, and something that makes you stand out is your best friends when starting a restaurant.
This article is a good place to start, but there are many other factors to consider while beginning your journey. Think staff, branding, operating hours, alcohol or no alcohol, etc.
Happy restauranting!
Building an online business? Build it on .Online!