8 Simple Strategies To Name Your Online Business + Free Tools
Building an online business is exciting and challenging.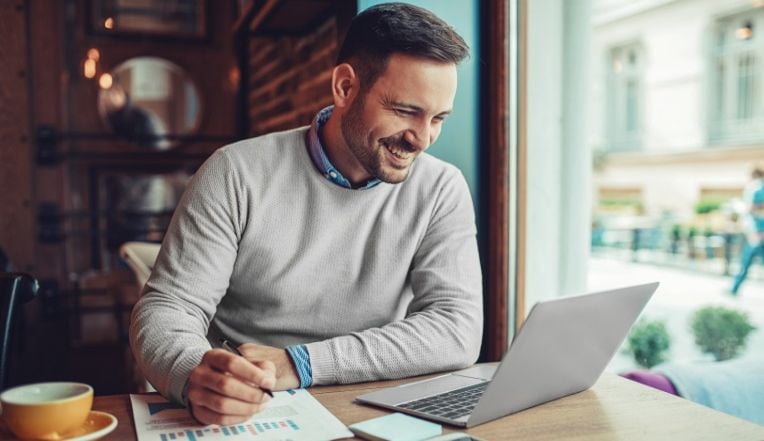 Are you planning to take your business online or launching a new product or a new brand?
Are you struggling to find the perfect online identity for your online business?
Are you in dilemma because of this name-game muddle?
If your answer for each of these questions is yes, then look no further. You're in the right place!
Naming something can be challenging. Especially if it's your business. A major portion of naming a product or a brand is to choose a fitting domain name for it. This can be challenging since you want something that is snappy and memorable and also available.
What Makes For A Great Startup Name? 
Here are the parameters that make for a great startup domain name:
A domain name that is short, easy to type, and easy to remember
A domain name that is definitive, relevant, and meaningful
A domain name that is unique, innovative, and memorable
A domain name that is clean, crisp, and uncluttered (free of any lingual or grammatical errors)
A domain name that is descriptive of what you sell and the industry you belong to
Your name should be smartly crafted in a way that best describes the essence of your business. However, to add to your woes, most short and slick names on .COM are already taken or come at a premium price.
What is a .ONLINE domain?
The choice of a startup's domain name should be based on industry relevance and startup's brand name.
Traditional domains such as .com and .net have been around for decades and millions of websites are already using these extensions.
However, new domain extensions make for a favorable choice for startups, especially if they are looking to find a qualitative, short, memorable domain names which are not weird.
.ONLINE makes for one of the most logical ways of announcing to the world that you are online. As a word, 'online' is understood in over 24 languages globally.
Which is why this is a brilliant domain name for your startup. Not only can you develop a strong global brand, but you can also confidently establish an online presence for your local brick and mortar business.
US-based www.geeks.online is a fitting example of a small business taking to the web and making the Canadian market a part of its business map.
Starting An Online business? Build It On .Online!
How To Choose A Great Domain Name For Your Online Business? 
The best way to choose a great domain name for your startup is to search for simple and short names that have a nice ring to it.
Look for options outside of .COMand brainstorm for names using online tools to ensure that you're not infringing any trademarks.
A few years ago, hunting for and registering a meaningful and relevant domain name was an arduous task since most evocative choices were taken and there was a lack of available domain extensions. With new domain extensions such as .ONLINE, that is not the case.
In this post, you'll discover eight handy tips that will help you choose the perfect identity for your online business.
1. Find A Suitable Domain Extension
Choosing the right domain name extension is pivotal for building a great online identity. For a new online business, you should look beyond traditional domain names such as .COM, .NET, .ORG. Pick a domain name that is more definitive and simpler to understand.
For instance, the best way to indicate that your business is now online is to choose a .ONLINE domain extension. The word 'online' is understood in almost all languages and is often used as a suffix to search for businesses on the web.
2. Select A Relevant name
Pick a name that seems like a natural fit for your business. Don't choose a name that is fancy and intriguing but one that fails to describe what your business is about.
For instance, you can choose a simple name for your business and combine it with a relevant extension (relevant to the nature of your business).
Take, for instance, www.taste.online, TASTE's website, and marketplace where patrons can order food and experience the brand online. Isn't that smart?
3. Choose The Right Keywords
SEO is a critical marketing component and in order to make your website pop up on the first page of search engines, your name and content must consist of the right keywords.
Before you develop your website, brainstorm about what you would words you want to be associated with when searched for on the web.
A keyword-rich domain name will help you drive more traffic to your website.
For instance, a web address such as www.buygroceries.online will attract backlink traction on the anchor text 'buy groceries online' and this will give search engines a positive indication about the authenticity of your website. This will help your website to rank higher.
4. Make It Memorable
Your online business deserves a name that should be easy to say, easy to understand, easy to remember, easy to spell, easy to type, and one that is free of any lingual errors.
Simply put, choose a name that makes a mark for itself. Remember, a name that is captivating stays with people and immensely helps to create a brand. For. e.g. www.bringme.online is an easy to remember URL.
Starting An Online business? Build It On .Online!
5. Keep It Simple
Pick a name that has a sharp ring to it and is short. Simple and minimalistic names are easier to remember and make for easy recollection. Avoid using hyphens or abbreviations or double letters or numbers.
Try the radio test to ensure that you have a simple and uncomplicated domain name. The idea is that people who hear your website name should pick it up instantly. www.remote.online is a perfect example of a company with a simple web address.
6. Opt For A Name That Has A 'Nice Ring To It'
If your business is not as simple as 'Taste Online' and you need a pathbreaking name still, take inspiration from the likes of Google, Yahoo! and Shazam.
Think of a name that sounds nice, even though the word itself may not make much sense or maybe a new word may be a combination of two existing words. For example www.getbaked.online or www.profx.online.
7. Think Outside The Box .COM
Would you rather be www.brandname-services-cityname.com or www.brandname.online? The first one is not only long but also prone to spelling mistakes while typing the web address.
Make a statement with your domain name by choosing something that is innovative and futuristic.
Do not compromise on your choice of name, in fact with new domain extensions, you have a choice to make your name more innovative and memorable.
Take, for instance, www.louder.online wherein the startup's domain name communicates a message about what it does, which helps in brand positioning and marketing.
8. Do Your Research
Make sure the name you decide on is not already trademarked. This will protect you from legal hassles later. Here's an interesting example in this context involving the tech giant Microsoft.
A 12th-grade Canadian student, Mike Rowe, decided to launch his part-time web design business on domain name MikeRoweSoft.com.
Microsoft claimed that this was trademark infringement and demanded the domain name be forfeited.
Eventually, they reached a settlement where Mike Rowe gave up the domain name in exchange for cool Microsoft perks and products.
While this ended amicably for both parties, others may not be so lucky.
Thus, it is advisable to check, and then double-check that your brand name choice is not conflicting with another brand's trademarked name.
Free Tools To Help You Find A Great Name For Your Online Business
One of the most effective ways to search for good online business names is to use online name generators. Not only do they help you brainstorm names, but they also give you available domain names. Here are a few online name generators that you can explore.
In Conclusion
Finding the perfect domain name for your online business is actually a simple and hassle-free task. And with all the information you have now, there's no reason not to choose a short and brandable domain name on one of the striking new domain extensions mentioned above.
Starting An Online business? Build It On .Online!